You are here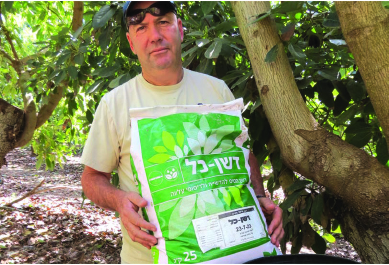 אי אפשר לתפוס את אורי מוטשן (ניצן) לבדו במשרד כמעט אף פעם: תמיד יש איתו חקלאי שבא להתייעץ ולהחליף רשמים, מדריך חקלאי שמגיע לסיור הקבוע בפרדס או אגרונום חברה שבא ללמוד מאורי עוד פרק בהלכות משתלה והדרים. ככה זה כשאתה אחד הפרדסנים המוכשרים בארץ. ארבעה דורות של פרדסנים גדלו במשק בעין-ורד שבשרון: הסבא, ממייסדי עין-ורד, שהקים לפני 84 שנים את ענף השתלנות במשק עם שתי כנות, ביניהן כנת החושחש המפורסמת; אביו של אורי ואורי עצמו, ובשנתיים האחרונות הצטרף שחר הבן הבכור למשק, עם סיום לימודיו במגמת קרקע ומים בפקולטה לחקלאות. אורי גם פעיל מאוד בקהילת מגדלי ההדרים בארץ, חבר בוועדה הענפית, ומגלה מעורבות ואכפתיות בתחום. "המשק שלנו משפחתי ומבוסס על עבודה עצמית" מספר אורי, "וזה אחד הדברים המיוחדים שבו. כבר היו מצבים בהם אבא, הדוד ואני קטפנו 400 טון שמוטי בעונה, יחד עם עוד זנים ותיקים כמו טבורי, אשכולית וולנסיה.
זן האור שהגיע מוולקני קיים אצלנו כ-15 שנה, והוא אחד הזנים המוצלחים ליצוא". משק מוטשן מתמחה בשתלנות הדרים ומרכז 25 דונם של משתלה מטופחת, בצד 250 דונם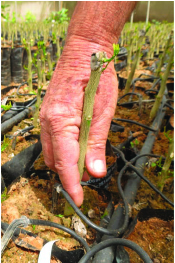 פרדס, ומגדלים בו מגוון סוגי הדרים לשוק המקומי וליצוא, במיוחד את קלמנטינת ה'אור' ואשכולית אדומה. בשנות ה-80 המוקדמות התחילו לפתח את ענף המשתלה תחת בתי רשת, תוך פיתוח מתמיד של זנים חדשים בפרדס. ספר לי על הדישון במשק. "נתחיל במשתלה. דשן-כל 20-9-20 עם מיקרואלמנטים עושה יופי של עבודה. התחלתי עם הנוסחה הזו אחרי הרבה שנים של הרכב פשוט ומסורתי יותר, ואין מה להשוות. הדישון במשתלה כמובן פרופורציונלי, וההרכב המאוזן של הדשן-כל מתאים לצרכי גידול השתיל כל השנה, גם מבחינת ההתאמה למצע השתילה בשקית הגידול. להשלמת הזנה ויישור קו במשתלה אני נותן ריסוסי עלווה עם דשן-כל 23-7-23 שמכיל גם מיקרו, וזה מספיק בהחלט". במשתלה כמו במשתלה, יש פה מגוון שלבי גידול. "נכון. יש שטחים של גידול כנות, חלקות אחרי שלב ההרכבה (הרכבות 'עין'), חלקות גידול ושתילים בוגרים מוכנים לשיווק. המטרה אחת: לייצר שתיל בוגר, חזק ובריא, שייקלט טוב בקרקע, ויוכל לגדול ולהניב פרי מסחרי איכותי תוך שנים ספורות משתילה. את כל השלבים האלה חייבים לתמוך בהזנה איכותית, מדויקת, שמכילה את כל מה שהצמח הצעיר צריך. לעיתים אני 'מחזק' את השטח עם חנקת אשלגן מועשר במיקרואלמנטים, כדי לעבות את הענפים, לתמוך בעלווה ולהעשיר במיקרו". מה לגבי הפרדס עצמו? "בפרדס הדשייה מתבצעת עם דשנים פשוטים יותר, אבל מידי פעם מרכיב חנקת אשלגן שתמיד תורם לאיכות הגידול והפרי.
מעבר לכך גם ריסוסי עלווה עם דשן-כל 23-7-23 להרצה של מוצר עיקרי לריסוסי עלווה או הדשייה. העובדה שגם דשן-כל מכיל אותו כספק האשלגן העיקרי רק עושה טוב למוצר וכמובן לתוצרת שלנו". כדי להתרשם מהמשתלה, צריך לבוא ולראות בעיניים: משטחים עמוסי שתילים יפהפיים ואחידים, ארוזים בעטיפה מיוחדת, עושים את דרכם למשאיות המשלוח, ומדי כמה דקות עובר ונכנס פרדסן, חקלאי מהסביבה או אפילו גנן המחפש את תוצרת המשתלה. פועלים ממושמעים עסוקים בהזמנות, ועל כל התכונה הזו מנצח אורי בכישרון רב.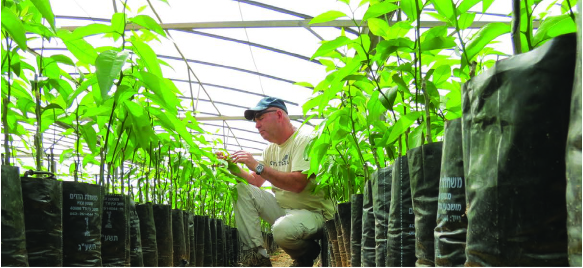 מקומו של דשן-כל, לפי אורי, אינו נפקד מהפרקטיקה המשקית. "דשן-כל 23-7-23 משולב גם בריסוסים נגד עש המנהרות ואקריות פרדסים צעירים או בתחילת עונה, וכמובן, ריסוסי עלווה עם בונוס (מוצר על בסיס חנקת אשלגן ש.ד.) בשלב הפרי. אין דבר כזה גידולי פרדס בלי ריסוס של בונוס. רוב הפרדסים בארץ מגדלים קליפים ליצוא, ואיכות הקליפה, גודל פרי וחיי מדף נגזרים בעיקר מדישון אשלגני נכון". במשרד יש מסך המקרין דרך קבע נתוני השקיה ודישון. "כל המשתלה ממוחשבת בהיבט של ממשק השקיה ודישון" מסביר אורי, "ובפרדס יש מערכות טנסיומטרים שמשדרים ישירות לפה. בעתיד יש לנו כוונה גם למחשב את כל שאר חלקות הפרדס".
"אנחנו ותיקים בנושא חנקת אשלגן" מוסיף אורי, כשאנחנו עושים את דרכנו למשתלה שמאחורי המשרד. "40 שנה אנחנו כבר משתמשים בו והוא ועוזר מאוד, וזה דבר בסיסי. שתדע לך - דישון נכון והזנה טובה יכולים גם לחסוך בחומרי הדברה, כיוון שעץ חזק או שתיל שבנוי טוב גם עמידים יותר בפני מחלות ופגעים" מסכם אורי. מאוחר יותר, בפרדס האור באחת החלקות שמסביב לעין-ורד, אנחנו מנסים ללקט פרי אחרון שנשאר על העץ ונשכח בקטיף של העונה שעברה. הפרי מתוק וטעים במיוחד. האביב הקדים מעט, העצים שופעי עלווה והפריחה בשיאה, והפרדס הוא כוורת הומה של דבורים מאביקות. החיוך, כרגיל, לא מש מפניו של אורי. אורי, יש לך את העבודה הכי טובה בעולם. "תכתוב - שכשהעבודה שלך היא גם התחביב, אז היא הכי טובה בעולם."​
Get the very latest from Haifa
The Haifa newsletter keeps you updated on advanced plant nutrition information,
and provides the latest news & events you and your crops should know about.