Efecto Nutrimental Y Fungicida Del Haifa Protek™ (Kh2po3) En Aguacate
El fosfito de potasio- HAIFA-Protek es altamente eficiente como complemento a la nutrición, para elevar rendimientos y calidad en los cultivos, así como en el combate y prevención de enfermedades de tipo fungoso. A continuaciòn una breve reseña del Dr. Ranferi Maldonado de la Universidad Autónoma Chapingo acerca del los fosfitos y la ventaja especial del ProteK en Aguacatero.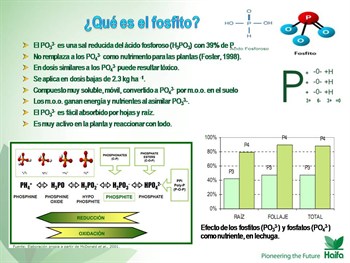 El fosfito de potasio es un compuesto que se utiliza de manera eficaz en nutrición vegetal, debido a su elevada solubilidad en agua, que le permite ser absorbido vía foliar por los vegetales. Su elevada capacidad sistémica permite que sea traslocado eficazmente dentro de los tejidos. Dentro de la planta activa los sistemas de defensa contra hongos y factores adversos, ya que promueve la formación de fitoalexinas,enzimas hidrolíticas (quitinasa), síntesis de glucanasas, quitinasas y peroxidasas, etc. para limitar el ataque y la dispersión del patógeno. Con ellos, se consigue que las plantas tengan una mayor resistencia en condiciones favorables para la infección de determinados hongos Oomicetos que causan podredumbres en plantas. Los fosfitos han mostrado efectividad selectiva contra oomicetos con dos modos de acción antifúngica: una directa que afecta el crecimiento del micelio y una estimulación indirecta de la defensas del hospedero. El control de muchas enfermedades requiere fungicidas peligrosos para el medio ambiente y la salud humana. Por ello, los fosfitos son considerados productos menos peligrosos y con un enorme potencial para afrontar esta problemática. Sin embargo, existen muchos fosfitos (>50), comercializados como fungicidas, fertilizantes foliares, o estimulantes de resistencia cuya eficiencia para el control de enfermedades no está bien definida. Sin embargo, el fosfito de potasio ha demostrado una gran actividad sistémica ascendente y descendente, que le permite actuar sobre el sistema radicular y foliar de las plantas. Dada su formulación, estimula en la planta la producción de sustancias de defensa natural como las fitoalexinas. Los estudios sobre el modo de acción de estos fosfitos, concluyen que la primera transformación que sufren estos productos cuando penetran en la planta es su hidrólisis a ácido fosforoso y su posterior transformación al dianiónfosfonato HPO33-). Se ha determinado que el fosfito de potasio reduce la podredumbre del tallo en pimiento y aguacatero, provocada por diferentes cepas de nueve especies de Phytophthora. Este compuesto fue efectivo in vitro y en campo, para controlar podredumbres causadas por Phytophthoracapsici y P. cinnamomi respectivamente. También se ha determinado que el fosfito de potasio es un fungitóxicos capaz de controlar la podredumbre radicular causada por Phytophthoracinnamomi en viveros de aguacatero. Similares resultados fueron encontrados en el cultivo de cítricos.La planta, cuando es infectada por un hongo produce las fitoalexinas específicas contra ese patógeno, pero en cantidad no suficiente para controlar por sí sola una infección aguda. Al aplicarel ácido fosforoso este actúa sobre el sistema fisiológico de la planta estimulando rápidamente la producción masiva de la fitoalexina específica contra el patógeno causante de la infección. Además, como demostraron el ácido fosforoso, cuando es absorbido por el hongo, también produce un efecto primario sobre él, interfiriendo con la estructura y la función de su membrana, no permitiendo el avance de la enfermedad. Coffey, M. D., y D. G. Ouimette. 1989. Phosphonates: Antifungal compounds against oomycetes. Paper read at Nitrogen, Phosphorus and Sulphur Utilization by Fungi. Symposium of the British Mycological Society, April 1988, at Cambridge. Cooke, L. R., y G. Little. 2002. The effect of foliar application of phosphonate formulations on the susceptibility of potato tubers to late blight. Pest Management Science 58 (1):17-25. Guest, D., y B. R. Grant. 1991. The complex mode of action of phosphonates as antifungal agents. Biol. Rev. (66):159-187.