Haifa Iberia participa en la conferencia FERTINNOWA
Haifa Iberia, en colaboración con el Instituto Valenciano de Investigaciones Agrarias (IVIA), participó en la conferencia final del consorcio europeo FERTINNOWA sobre la innovación de los sistemas y las tecnologías relacionadas con la fertirrigación en la producción hortícola, que se celebró del 3-4 octubre 2018 en el palacio de Congresos de Aguadulce (Almería).
Nuestra participación consistió en la presentación y defensa del poster titulado "Different sources of potassium (K) for a better management of fertigation under conditions of water stress and / or salinity in fruit-tree crops" donde se plasma los resultados obtenidos en el acuerdo de colaboración entre la empresa Haifa y el IVIA, sobre el estudio de las fuentes de potasio utilizadas en fertirrigación. El poster fue defendido por la doctora Dolors Roca del Centro de Trasferencia Tecnológica de la Consellería de Agricultura (Generalitat Valenciana).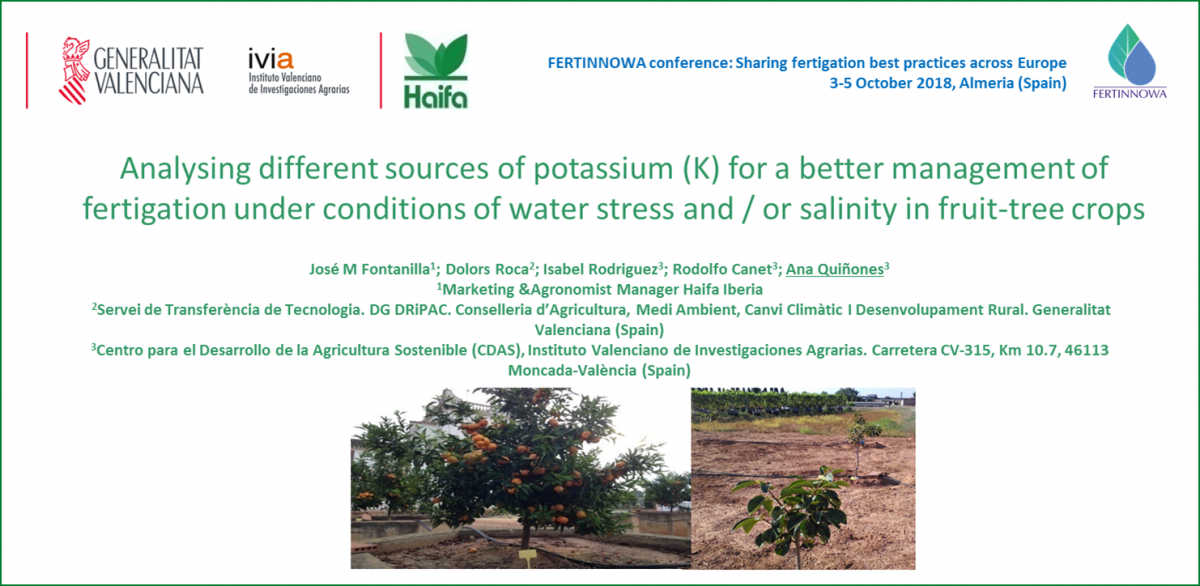 Los resultados obtenidos en este trabajo demuestran que los árboles de kaki y cítricos fertilizados con nitrato potásico (Multi-K™) están menos estresados, extraen el agua del suelo con menos dificultad y aparecen en el suelo valores de conductividad eléctrica significativamente menores que los fertilizados con cloruro potásico. Estos resultados se podrían también extrapolar a aquellos cultivos que presentan una especial sensibilidad a los cloruros, tal y como es este caso.
El poster completo lo puedes consultar en el siguiente documento en PDF