You are here
חיפה כימיקלים מציעה פתרונות דישון ייחודיים, להזנה יעילה של מטעי אבוקדו, במשקים בכל גודל. תכניות הדישון מבוססות על דשנים מסיסים ודשנים בשחרור מבוקר במגוון נוסחאות. הדשנים מספקים את יסודות ההזנה בהרכבים המותאמים לדרישות העץ בשלבי ההתפתחות השונים, מהנטיעה ועד למטע בוגר.
מטעי אבוקדו רבים מושקים במים מושבים – מים המכילים ריכוזים גבוהים של כלור ונתרן, המזיקים לקרקע ולעצים, ופוגעים ביבול. דשני חיפה, המבוססים על חנקת אשלגן, מכילים 100% יסודות הזנה, המפחיתים נזקי מליחות.
דשנים מסיסים למטע בוגר
דשנים מורכבים על בסיס חנקת אשלגן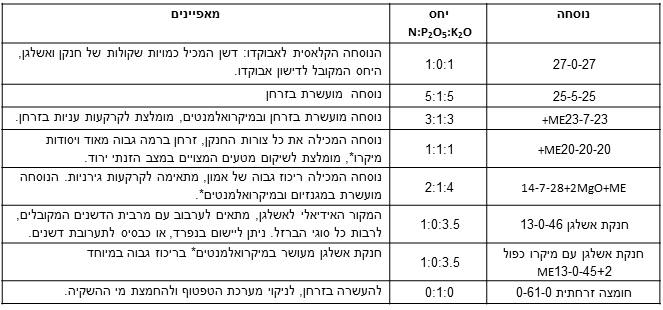 *ריכוז יסודות המיקרו תלוי בנוסחה. הנוסחאות המועשרות מכילות כילאים (EDTA) של ברזל, מנגן, אבץ ונחושת, ומוליבדן גפרתי.
ניתן להזמין דשנים מוצקים בשקי 25 ק"ג או בשקי ענק 500-1,000 ק"ג
ניתן להזמין נוסחאות דשן מותאמות לדרישת הלקוח
לחיפה כימיקלים מגוון פתרונות להמסת דשן מוצק, למשקים קטנים, בינוניים או גדולים
מולטיגרו - דשנים בשחרור מבוקר
מולטיגרו הינו דשן גרגרי בציפוי פולימרי להזנה מתמשכת: יישום אחד, פשוט ומהיר, מספק דישון רציף במשך כל העונה. מולטיגרו
ידידותי לסביבה, ומפחית שטיפת דשנים למי התהום. נוסחאות מולטיגרו מיושמות בהצלחה במטעי אבוקדו בארץ מזה כ 10 שנים.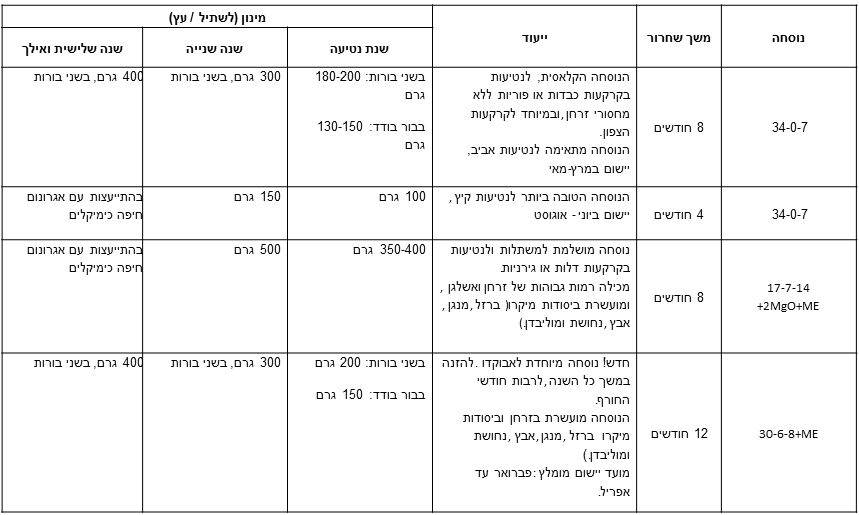 יישום מולטיגרו במטע הצעיר
מומלץ ליישם את הדשן כשבועיים לאחר שתילה. באבוקדו לא מומלץ ליישם בבור הנטיעה.
יש ליישם את הדשן מתחת לשתי טפטפות, משני צדי העץ.
יש ליישם את הדשן בגומות, ולכסות את הגרגרים בשכבת אדמה, כדי לשמור אותם לחים.
אם בסמוך לעץ יש רק טפטפת אחת, יש להפחית 25% ממנת הדשן, וליישם במרחק של 10-15 ס"מ מהגזע, מצדו השני של קו ההשקיה. אין ליישם את הדשן מעל שקית השתילה.
מולטיגרו למטע בוגר
נוסחאות מולטיגרו לאבוקדו משחררות יסודות הזנה לקרקע ומזינות את העץ במשך 12 חודשים. ניתן להזמין נוסחאות מולטיגרו שונות למטע בוגר על-פי לדרישות הלקוח, בהתאם לבדיקות עלים, איכות המים ומצב הקרקע.
יש ליישם את הדשן בארבעה בורות סביב העץ, או בפס מתחת לטפטפות.
לאחר יישום הדשן בבורות, יש לכסות את הגרגרים בשכבת אדמה, כדי לשמור אותם לחים.
מומלץ להתייעץ עם אגרונום חיפה כימיקלים לבחירת הנוסחה, ולקביעת המינון ואופן יישום הדשן.
אגרונומים חיפה כימיקלים לשירותך:
אזור הצפון: ישי וקסמן 054-675-6675
אזור המרכז: אבישי שיינדר054-5616221
אזור הדרום: יוסי סופר 054-5616112
Get the very latest from Haifa
The Haifa newsletter keeps you updated on advanced plant nutrition information,
and provides the latest news & events you and your crops should know about.