A complete range of foliar nutrition products
Haifa offers a selection of premium products for foliar application, all containing pure plant nutrients, free of chloride, sodium, and any other detrimental materials.
Poly-Feed™ Foliar is a range of fully water soluble NPK, high quality fertilizers for foliar application.
Poly-Feed™ soluble NPK formulae is designed for crop feeding with optimal,
balanced nutrition throughout the growth season.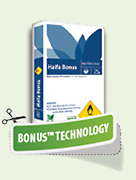 Haifa Bonus™ is a high-K foliar formula (13-2-44), based on Haifa's
Multi-K™
potassium nitrate.
Phosphate enrichment balances the nutritional value of Haifa Bonus™, and improves its compatibility with various agrochemicals.
Other Haifa Bonus™ formulae are available upon request.
Seaweed extracts: small addition that goes a long way. A variety of Poly-Feed™ formulas are available, enriched with 0.5% or 1% seaweed extracts.
The seaweed extracts contain a wide range of nutrients, growth bio-stimulants and conditioners that act together to improve both plant development and soil properties. The seaweed extracts catalyze cellular metabolism and enhance cellular production of growth hormones, two processes that promote plant development.
- Better plant development
- Enriched plant nutrition
- Improved plant strength
Additionally, the seaweed extracts help to increase the population of beneficial microbes in the soil. These microbes create a "biological barrier" between the plant and pathogens, and improve the natural tolerance of the plant.

More fertilizers for foliar application