当前位置
דואגים לסביבה והרבה מעבר...
קבוצת חיפה מציבה בראש סדר העדיפויות את נושא הקיימות, ומובילה פעילות ענפה ליצירת סביבה, כלכלה וחברה בת קיימא.
בתור חלוצה רב-לאומית המובילה פתרונות חדשניים לחיזוק החקלאות, הקיימות והדאגה לסביבה הן חלק בלתי נפרד מה- DNA של קבוצת חיפה. ברוח המחויבות העמוקה לרווחת הסביבה והאדם, פועלת הקבוצה לפיתוח הקיימות במגוון תחומי החיים: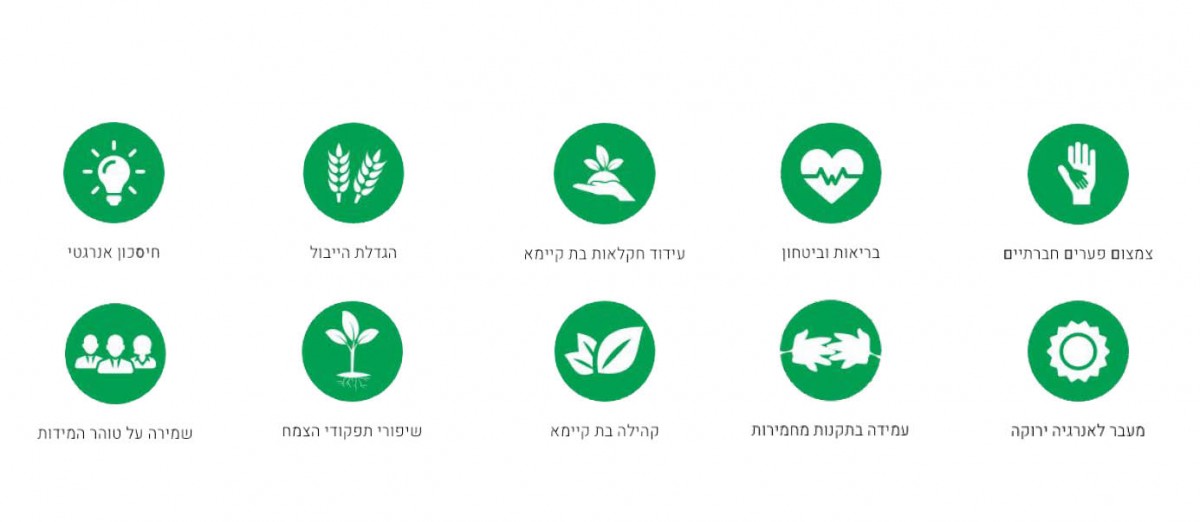 צמצום פערים חברתיים – קבוצת חיפה מעסיקה כ- 5,000 עובדים באופן ישיר ועקיף ומספקת פרנסה לתושבים בצפון ובדרום, באמצעות מרכז המחקר והפיתוח ומפעלי הייצור שלה.
בריאות ובטיחות – אכיפת נהלי בטיחות מחמירים, ביצוע ביקורות שוטפות ובדיקות רפואיות של עובדי הייצור, נועדו להבטיח את שלומם ובריאותם של עובדי הקבוצה בארץ ובעולם.
עידוד חקלאות בת קיימא – פיתוח מוצרים וטכניקות דישון התורמים לשמירה על האיזון האקולוגי, דוגמת דשנים בעלי ציפוי פולימרי המפחיתים ב – 30% את פליטת גזי החממה ביחס לדשנים רגילים.
הגדלת היבול– קבוצת חיפה לוקחת חלק במאמץ להגדלת היבול החקלאי, באמצעות פתרונות חדשניים ושיטות דישון מתקדמות. זאת על רקע תחזית האו"ם לגידול של כ- 70% בצריכת המזון העולמית עד שנת 2050.
חיסכון אנרגטי – פיתוח פתרונות חכמים החוסכים שימוש באנרגיה ובכלים כבדים בזמן ההשמה. פתרונות אלו מאפשרים השמה יחידה לאורך כל תקופת הגידול, באמצעות שחרור מבוקר ורצוף של חומרי הזנה באזור השורשים.
מעבר לאנרגיה ירוקה – ייצור אשלגן ונתרן חנקתי, המשמשים לאחסון אנרגיה בתחנות תרמו סולאריות ותורמים להפחתה ניכרת של השימוש בדלקי מאובנים.
שימוש בגז טבעי – מפעלי הקבוצה משתמשים בגז טבעי ישראלי כמקור אנרגיה, הידוע כיעיל, חסכוני ואשר מפחית את זיהום האוויר ופליטות גזי החממה.
עמידה בתקנות מחמירות – הפתרונות של קבוצת חיפה עומדים בקנה אחד עם התקנות המחמירות של המשרד להגנת הסביבה ושל הארגונים הבינלאומיים הרלוונטיים, לרבות שימוש בטכניקות ובטכנולוגיות ייצור מתקדמות התרומות לצמצום ההשפעה על הסביבה.
קהילה בת-קיימא – טיפוח החקלאות האורבאנית באמצעות דשנים יעילים במיוחד, המסייעים להפקת מקסימום תוצרת במינימום שטח. בנוסף, דשנים אלו יעילים במיוחד לטיפוח גידולים בשטחים קטנים.
שיפור תפקודי הצמח – שינויי אקלים קיצוניים עלולים לפגוע בהתפתחות היבולים. קבוצת חיפה מפתחת שורה של פתרונות חכמים המסייעים לצמח לשרוד תנאי אקלים קשים, דוגמת דשנים בשחרור מבוקר (שלא נשטפים בגשם) וחומרי הזנה שנספגים מידית בצמח.
שמירה על טוהר מידות – קבוצת חיפה מחויבת למלחמה בשחיתות, באמצעות שמירה על שקיפות ועל תנאי סחר הוגן. לצורך שמירה על טוהר מידות, עובדי הקבוצה עוברים הכשרות בנושאים אלה מדי שנה.
לאור החיבור העמוק לסביבה, התקבלה קבוצת חיפה לארגון ה- Global Compact שהוקם ע"י האו"ם במטרה לעודד עסקים ברחבי העולם לאמץ מדיניות אחראית ואחריות חברתית גלובלית המובלת על ידי מספר עקרונות מובילים בתחומי זכויות האדם, התעסוקה, הסביבה ושמירה על טוהר המידות. הצטרפותה של קבוצת חיפה לארגון זה, מבטיחה כי היא פועלת על פי עקרונותיה של תכנית ה- SDG (Sustainable Development Goals) של האו"ם לפיתוח חברה בת-קיימא.
Get the very latest from Haifa
The Haifa newsletter keeps you updated on advanced plant nutrition information,
and provides the latest news & events you and your crops should know about.