当前位置

Bioestimulantes: suplementos nutritivos para cultivos de calidad
Bajo el cultivo intensivo, las plantas trabajan duro para producir una cosecha de calidad. Necesitan ejecutar una precisa combinación de procesos vitales que encajonan los milagros del crecimiento y la producción de la fruta, al mismo tiempo que utilizan el agua y los nutrientes de la manera más eficiente. Además, la planta tiene que continuar con sus rutinas de desarrollo incluso cuando las cosas se ponen difíciles, bajo condiciones desafiantes y de estrés.
HaifaStim™ es una gama de bioestimulantes, cuidadosamente formulados para reforzar la planta y mejorar su entorno productivo, con el fin de conseguir un desarrollo óptimo, aumentar los rendimientos y maximizar la calidad.

HaifaStim™ mejora todo el sistema productivo, lo que se traduce en un mejor desarrollo de la planta, una mejor estructura del suelo y un mayor rendimiento, además de reducir el impacto ambiental.
Cuándo usar los productos HaifaStim™ :
Para apoyar a los cultivos de alto rendimiento: los productos HaifaStim™ ayudan a la planta a producir los metabolitos y enzimas necesarios para alcanzar el máximo rendimiento.

Para contrarrestar el estrés: los productos HaifaStim™ ayudan a la planta a recuperar su metabolismo y reactivar los procesos bioquímicos y la síntesis enzimática necesarios para su desarrollo.

Para mantener todos los cultivos en condiciones óptimas: los productos HaifaStim™ nutren el cultivo con compuestos fisionutricionales que ayudan a mantener su ciclo productivo y evitan el estrés.

Como portadores de herbicidas y fungicidas: los productos HaifaStim™ facilitan la actividad de los fitosanitarios y aceleran su transferencia en la planta.

Como potenciadores de fertilizantes solubles: los productos HaifaStim™ mejoran la actividad radicular, por lo que su aplicación conjunta con fertilizantes solubles mejora la eficiencia en el uso de los nutrientes.
HaifaStim™ Foliamin
Producto especialmente diseñado como fuente de aminoácidos y péptidos para aplicaciones foliares, con una alta concentración de aminoácidos y péptidos libres y una absorción foliar
rápida y completa. Su aplicación mejora la actividad enzimática y aumenta la eficiencia de los fertilizantes y fitosanitarios.

HaifaStim™ Amin
Una fuente de aminoácidos, péptidos y peptonas para fertirrigación Los aminoácidos y péptidos (proteínas hidrolizadas) facilitan la síntesis de los reguladores del
crecimiento en la planta, que a su vez controlan una diversidad de procesos esenciales.

HaifaStim™ Humic
Ácidos húmicos derivados de la leonardita
La materia húmica aumenta la capacidad de intercambio catiónico del suelo (CIC), mejorando la estructura del suelo y aumentando la capacidad del suelo para suministrar nutrientes
esenciales a la planta. Las materias húmicas inducen también el potencial electroquímico en las raíces, facilitando la absorción de los nutrientes. Debido a la mayor producción de compuestos
fenólicos, las materias húmicas aumentan la resistencia de la planta al estrés.

HaifaStim™ Mar
Extractos de algas Ascophyllum nodosum
Los extractos de algas son ricos en nutrientes, bioestimulantes y acondicionadores naturales que actúan en sinergia para mejorar el desarrollo de las plantas y las propiedades del suelo.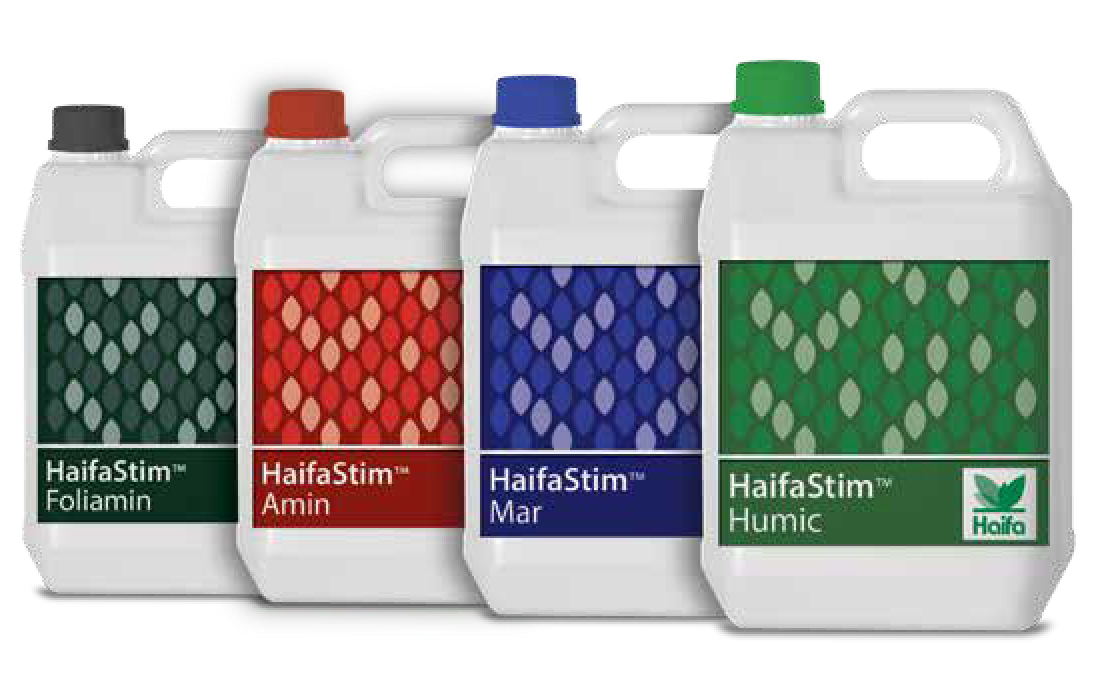 Get the very latest from Haifa
The Haifa newsletter keeps you updated on advanced plant nutrition information,
and provides the latest news & events you and your crops should know about.