You are here
Watermelon fertilizer: the economic benefits of foliar nutrition
A field trial conducted in Vietnam confirmed: spraying Poly-Feed™ and Haifa MKP™ on the leaves results in higher yield and profit
The field trial tested the farmer's practice – a base fertilizer program – against Haifa's treatment: the farmer's watermelon fertilizer practice + Poly-Feed™ and Haifa MKP™ foliar sprays. The results, as shown in the table and graphs below, were in favor of Haifa's treatment – there is higher profit per Ha and higher yield.
Crop/cultivar

Watermelon
Country / location
Vietnam / Can Tho province
Trial type
Open field
Seasons
Dry and Rainy season, 2012
Area
2 ha (1 ha/season)
Haifa products tested
Haifa MKPTM, Poly-FeedTM 15-30-15, Poly-FeedTM 16-8-34
Application method
Foliar nutrition
Variety properties
Name: TN 755
Growth time: 55-60 days
Fruit weight: 4-5 kg
Average Yield: 30-40 tons/ha
Tested treatments
Control (farmer practice): Base fertilizer program: 125N - 100P2O5 - 120K2O + 40CaO
Haifa treatment: Farmer practice +
Poly-FeedTM 15-30-15+TE (50grams/16 lits water, 320 lits/ha) spray 2 times after planted 13 days and 18 days;
Haifa MKPTM (100grams/16 lits water, 320 lits/ha) spray one time before flower setting 5-7 day;
Poly-FeedTM 16-8-34+TE (50grams/16 lits water, 320 lits/ha) spray 3 times after fruit setting and 5 days apart
Control treatment results
Farmer practice: Dry season: 22.6 t/Ha
Rainy season: 18.5 t/Ha
Best treatment results
Farmer practice + Haifa foliar: Dry season: 24.8 t/Ha
Rainy season: 19.9 t/Ha
Cost of best treatment
20 USD
Net benefit of best treatment
Net profit difference : Dry season:639 USD/Ha
Rainy season: 578 USD/Ha
Benefit/cost ratio of Haifa treatment
Dry season: 31.95
Rainy season: 28.90*
Conclusions
The extra cost of the foliar treatment (20 USD/ha) gave higher profit per Ha (578-639 USD/ha). The foliar treatment cost/benefit ratio was higher in the dry season, when yields are usually low due to less than optimal growing conditions
Reference
MSc. HUYNH TRI CUONG, Agronomic Director
* Although the fertilizer costs were higher, the total cost for each season was lower, due to lower pests infection in the foliar nutrition treatments, resulting in less pesticides use.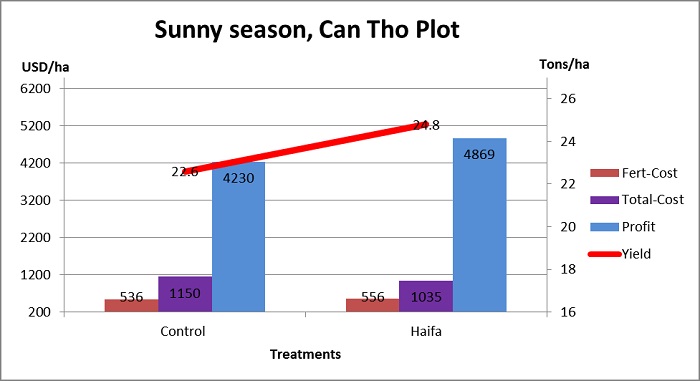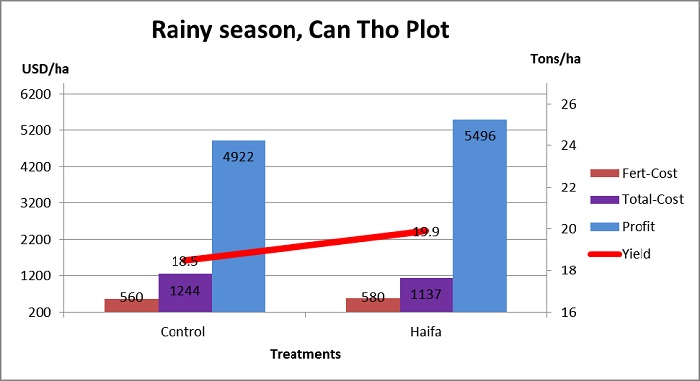 Need more information about growing watermelons ? You can always return to the watermelon fertilizer .
Get the very latest from Haifa
The Haifa newsletter keeps you updated on advanced plant nutrition information,
and provides the latest news & events you and your crops should know about.