You are here
Introducing the new FoliMatch™ Application, a personal assistant for foliar spraying in 3 steps.




FoliMatch™ app generates accurate fertilization recommendations based on location parameters, and considering specific phenology stages of the crop.


FoliMatch™ is available for Desktop version & Mobile via App stores.

New Features:
♦ Many more crops available
♦ Improved user interface
♦ Customized recommendations to suit user's location
♦ Built-in option to share foliar nutrition programs
♦ Find near-by fertilizer shops
♦ Finely tuned recommendations
♦ Expanded recommendation database for products that match plot location
Benefits:
♦ Gives the grower an accurate recommendation based on on-location parameters
♦ Includes data for 22 major crops
♦ Pays special attention to specific phenology stages for each crop
♦ Interface in 11 languages
♦ Allows you to send the calculation's result via mobile interface

1. Are weather conditions suitable for spraying?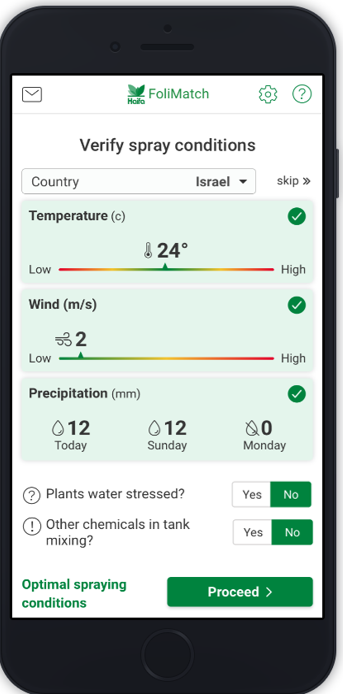 2. What are you going to spray?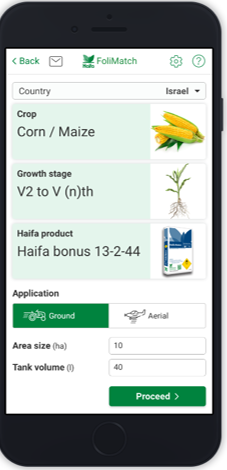 3. Get a program!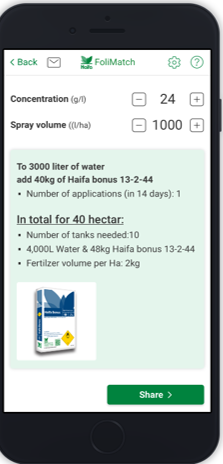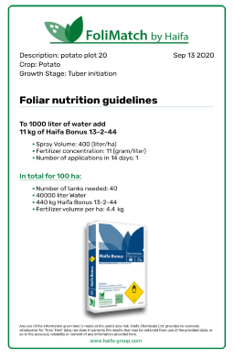 And you can also share it!
Download now from your app store:
Get the very latest from Haifa
The Haifa newsletter keeps you updated on advanced plant nutrition information,
and provides the latest news & events you and your crops should know about.