You are here
Multifeed™ BigBag –

An innovative fertilizer application method for advanced horticulture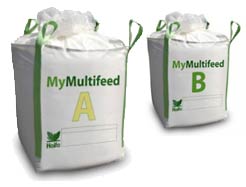 Multifeed™ BigBag is a successful fertilizer concept for A/B tank systems. It enables you to a soluble fertilizer of no less than 10,000 litres in a very short time – Quickly and easily. Currently the Multifeed™ BigBag is available only in countries subordinated to Haifa's northwest Europe subsidiary
What is the Multifeed Big Bag concept?
Multifeed BigBag is a successful fertilizer concept for A/B tank systems.
The blend required for the A and B tank is supplied to you in 2 separate big bags, if wished within 1 working day. These big bags hold from 400 to 1,200 kg.
The Multifeed BigBag enables you to prepare a soluble fertilizer of no less than 10,000 litres in a very short time - Quickly and easily.
MyMultifeed™

Online composing and ordering fertilizer mixtures for your crops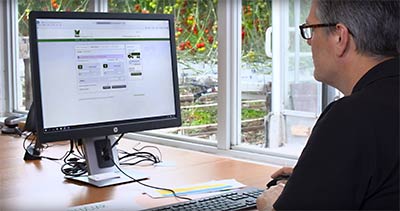 Operating in north west Europe, the MyMultifeed™ is an online system for composing and ordering of Haifa plant nutrition mixtures for nurseries.
MyMultifeed™ is the simplest, fastest and most user-friendly fertilizer concept for A/B container systems. MyMultifeed™ is the only system in the greenhouse-horticulture industry with which a grower is able to compose and order a unique fertilizer mixtures online.
Tailor-made, Reliable, Convenient, and Cost Efficient
Registered growers are logged in and entering the different types and quantities of needed fertilizers for their crops. The fertilizers are then delivered in two separate bigbags varying in weight from 400 to 1200 kg.
The process is fully automated, precluding the risk of the types of errors that may be made in manual fertilizer order processing. The MyMultifeed™ system will moreover be almost entirely interference-free at the nursery. This advanced form of automation makes fertilization with MyMultifeed™ extremely cost-efficient. The MyMultifeed™ system is also attractively priced and easy to maintain.
How does the Multifeed™ concept works?
Create the optimal fertilizer for your crops in just four steps:
Define the blend based on your substrate analysis. This can also be done using the Haifast calculation program. From the Haifast program email the recipe* to your Multifeed BigBag dealer.

Haifa then fills the A and B big bag with the components indicated by you.

We can deliver the big bags - if required - to your company the following day.

Empty the contents of the big bags into the A and B tank, and add water.

* You can also use the
Haifast program
to easily order your standard fertilizer blend.
Get the very latest from Haifa
The Haifa newsletter keeps you updated on advanced plant nutrition information,
and provides the latest news & events you and your crops should know about.