You are here
Haifa Turbo-K™ - Complex Fertilizer - NPK Granular Fertilizer For Plants
Haifa Turbo-K™: a new grade of complex NPK granule generated from Multi-K™ Potassium Nitrate. The ultimate solution for maximizing yield and plant strength
In one uniform granule, your plant is provided with highly valuable nutrients combining the Multi-K™ potassium nitrate benefits plus essential macro and micro nutrients. Haifa Turbo-K™ complex fertilizer is ideal for open field, greenhouses, orchards and turf production. Geared fertilizer technology to maximize crop revenue.
The benefits of Haifa Turbo-K™ complex fertilizers
Top quality K source, based on Haifa's Multi-K™
Contains carefully balanced K, Mg and S
Contains an optimal balance of ammonium to nitrate
Low in sodium and chloride
Accurate sulfur content for low environmental impact
Homogeneous composition in each granule, ensures uniform plant nutrition
Haifa Turbo-K™ comes in various formulae
Multi-K™ potassium nitrate inside
Adequate potassium nutrition is essential for healthy growth, for the plant's strength and for excellent yield quality.
Combating soil salinity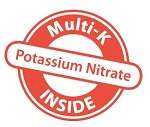 High soil salinity impairs water uptake by the plant, thus disturbing critical physiological processes and consequently retarding growth and reducing yields. In addition, the main ions that produce salinity in the soil, sodium (Na+) and chloride (Cl-), have specific toxic effects on plants.
Haifa Turbo-K™ is low in sodium and chloride, and possesses a low salt index. This makes it ideal for salt-sensitive crops and for use under hot, dry climates, where salinity problems are more severe.
Get the very latest from Haifa
The Haifa newsletter keeps you updated on advanced plant nutrition information,
and provides the latest news & events you and your crops should know about.