Contact the dealer
Select the products that you're interested in

Search...
Close
Our Products
choose products from the list:
106 Princeton Avenue, Half Moon Bay 94019, CA
About Us
Romeo Packing Company is a family owned business that serves the nursery, farm and landscaping industries. From our factory five miles north of Half Moon Bay,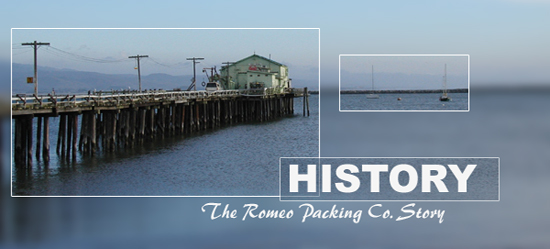 California, we serve our customers with our own fleet of trucks in Northern California and common carriers or UPS for all other shipments. Our personalized approach to doing business has served us well for over fifty years.
Romeo Packing Company's founder, Joe Romeo, came to the United States with his family in the early years of the 20th century and became involved with the Romeo Fish Company, which provided fresh fish to the citizens of San Francisco. In the 1940's Joe came to the village of Princeton-by-the-Sea, just North of Half Moon Bay. There he built a fishing pier and cannery to supply canned sardines and salmon to the retail trade, thus Romeo Packing Co. was born. Their canned products carried a logo of a fish with glasses named Charlie, after Joe's son, which was sold to Star-Kist and is now known as Charlie Tuna.
The 1950's brought an end to sardine fishing in the area. Undaunted, Joe separated from the fish company but continued in business making fish fertilizer for the agricultural industry. As time passed and agricultural processes changed, Joe's son Charlie joined his father and developed a new line of blended fertilizers. These new blended products offered growers a choice of organic sources as well as new modern synthetic technology.
With the fertilizer division up and running, Joe took on another challenge of making a machine to manufacture paper plant sleeves. Until then, all sleeves were hand made. After seven years of trial and error, Joe succeeded in automating the process by 1975. Joe's second son, Frank, joined the business around that time and helped develop Romeo Packing into one of the West Coast's top paper sleeve producers.
Now joined by Connie, Joe's daughter, and Joey, Charlie's son, Romeo Packing has grown to be one of California's leading custom blenders of dry, slow release, water soluble and organic fertilizers and manufacturer of paper plant sleeves and decorative foil.
Romeo Packing Co. also distributes chemicals, plastic sleeves, injectors and many other products used in the greenhouse, landscape and agricultural industries.