You are here
Index
There is a wealth of types of edible onions that differs in size, shape and flavor. The bulb onion are the most prevalent members of the group, accounting for the largest growth areas and global yield.
Bulb onions are classified into three groups, according to their response to day length:
Short-day bulb varieties with day lengths of 11-12 hours
Intermediate bulb varieties with day lengths of 13-14 hours
Long-day varieties with day lengths of 14-16 hours.
Onion varieties are also distinguished by their color, yellow/ brown, white or red. Usually cultivars with similar color will have typical features.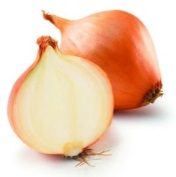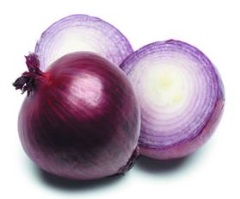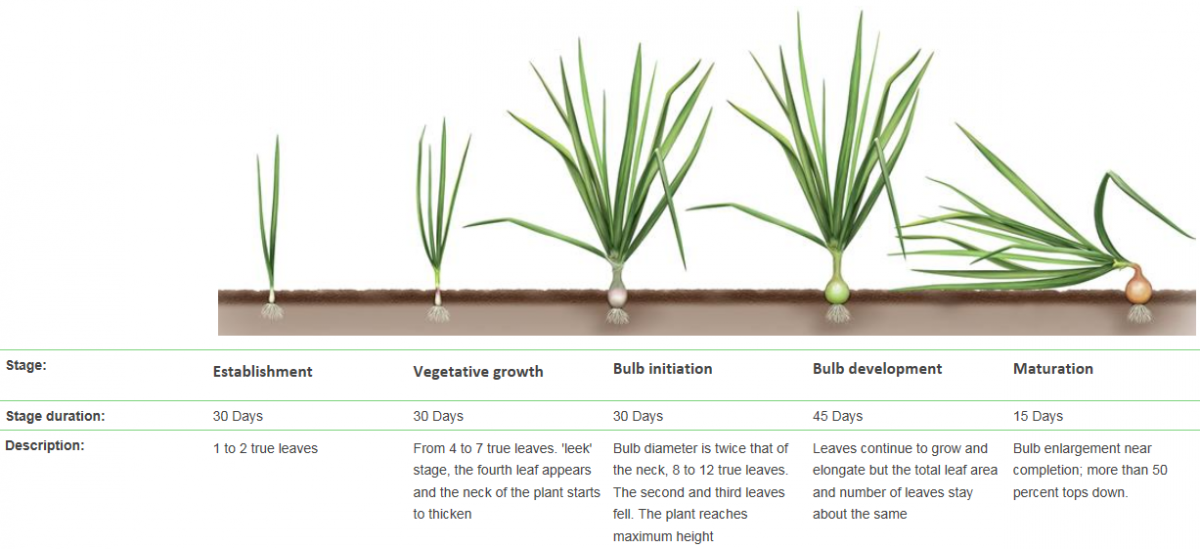 Crop growth needs
Onions have a shallow, sparsely branched root system with most roots in the top 30 cm of soil. Rooting density decreases with soil depth. Thus, it is important to maintain nutrient and soil moisture within the shallow rooting area . Soils need to be well structured and fertile to maximize growth and produce high yields. Bulbs are harvested when the tops fall. For bulb production the plant should not flower, since flowering adversely affects yields. Flowering depends on day length, and requires low temperatures (lower than 14-16°C) and low humidity.
Seed bed condition
A fine, consolidated seed zone is required for maximum germination and good establishment. Clods and stones will hinder growth. Optimum soil temperature for germination is 15 to 25°C.
pH
Soil pH range of 6-7 is optimal for onion growth. When pH drops below 5.5, magnesium and molybdenum availability decline and when the pH exceeds 6.5 zinc, manganese and iron become deficient.
Soil analysis guide for diagnosing available nutrient status
Levels of available nutrient in the soil,ppm

Soil status

Phosphorus

Potassium

Zinc

Very deficient

0-5

<40

<0.3

Deficient

5-9

40-80

0.3-0.5

Intermediate

10-15

80-120

0.5-0.8

Sufficient

>15

>120

>0.8
Analytical methods:
Phosphorus – Olsen bicarbonate
Potassium – Ammonium acetate
(UC Davis 2016)
The onion crop requires 350 to 550 mm of water throughout the growth cycle. It is recommended to give frequent, light irrigations which are timed when about 25 percent of available water in the top 30 cm of soil is depleted. Irrigation intervals of 2-4 days are a common practice. Excessive irrigation sometimes gives rise to the occurrence of diseases such as mildew and white rot. Irrigation should be ceased 15 to 25 days before harvest. Late season irrigation might delay maturity and cause skin cracking.
The following table shows crop coefficient (kc) relating reference evapotranspiration (ETo) to water requirements (ETm) at different development stages.
Stages of development

Plant date

Region

stage

initial

Crop development

Mid-season

Late

Total

Length (days)

15

25

70

40

150

April

Mediterranean

20

35

110

45

210

Oct./Jan

Arid region; California

Root depth, m

-

-

-

-

0.6

Crop coefficient, Kc.

0.7

>>

1.05

0.75

-
(Source: FAO)
Water stress
Onions are very sensitive to water stress. Although onions can survive long periods of drought, water availability is critical for growth and high yields of quality bulbs. Onion responds to water-stress by reducing rates of transpiration, photosynthesis, and growth. During the stage of bulb growth, onions are more sensitive to water stress than most other crops. Water stress at this time reduces bulb yield and size. Under drought stress, onions are more likely to split or form double and multiple bulbs.
Salinity
The onion crop is sensitive to soil salinity, as the table below depicts.
| | | | | | |
| --- | --- | --- | --- | --- | --- |
| Conductivity (mmhos/cm) | 1.2 | 1.8 | 2.8 | 4.3 | 7.5 |
| Yield decrease | 0% | 10% | 25% | 50% | 100% |
Incorporation of fertilizers into planting beds before seeding increases level of soluble salts to a level that might harm seedlings as they emerge. After establishment, onions can tolerate higher salt levels. Salinity problems can also include specific toxicity of elements such as boron or sodium, usually are related to irrigation water quality.
Onions are more sensitive to salinity, sodium, and boron toxicity than are lettuce, cauliflower, broccoli, and cabbage.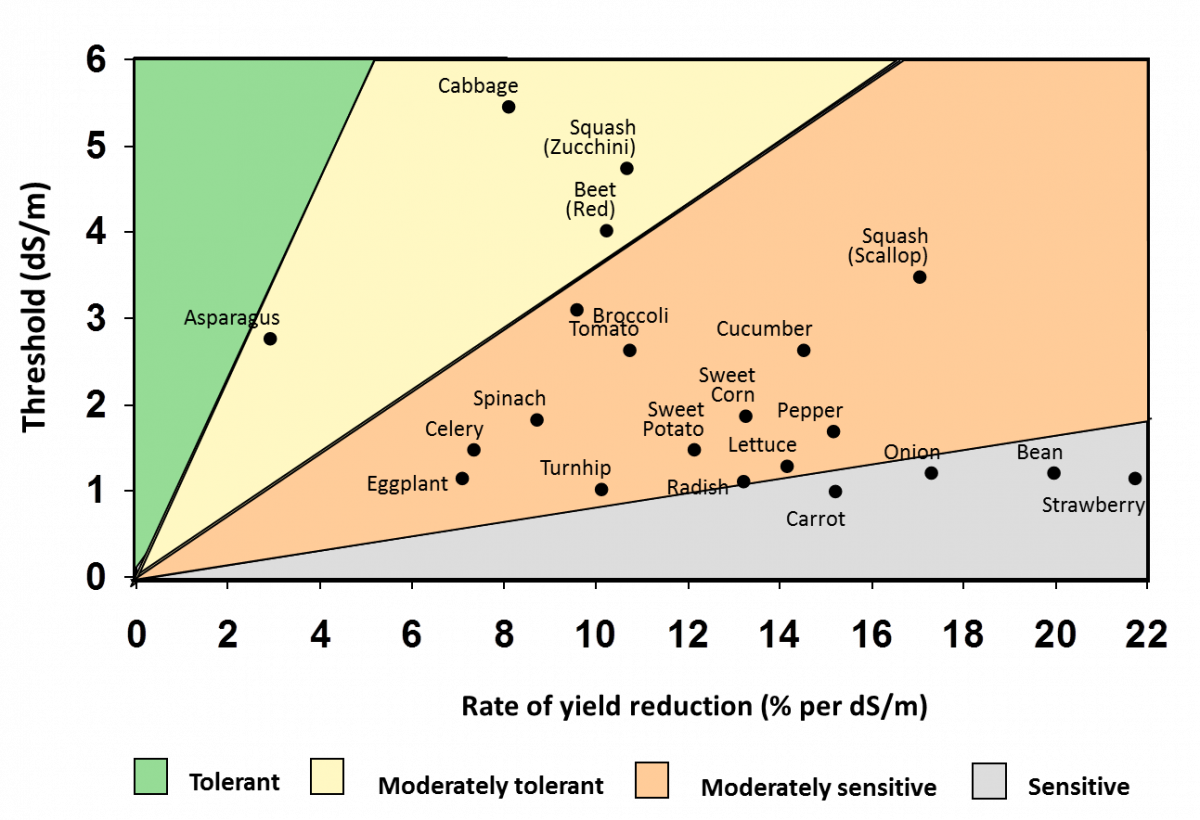 Source: Shannon and Grieve (1999)
Weed competition
The onion is a naturally poor competitor. To avoid yield reduction, weed control is essential right from sowing.
Get the very latest from Haifa
The Haifa newsletter keeps you updated on advanced plant nutrition information,
and provides the latest news & events you and your crops should know about.