You are here
Free Webinar - Nutirgation™: Benefits and Practice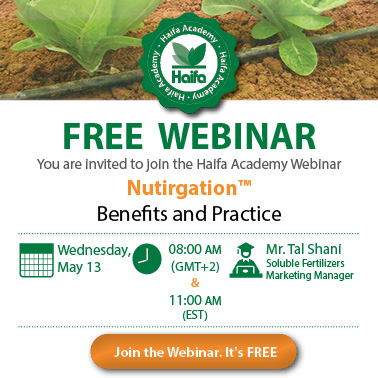 Following the success with our previous webinar,
Haifa Academy are happy to invite you to another FREE WEBINAR about "Nutirgation™ - Benefits and Practice".

Discover how a carefully planned nutritional program helps to save water, improve Nutrient Use Efficiency, and increase yield.

For your convenience, the webinar will be held at two different times on Wednesday, 13th of May
08:00 am (GMT+2) & 11:00 am (EST)
Register here
Get the very latest from Haifa
The Haifa newsletter keeps you updated on advanced plant nutrition information,
and provides the latest news & events you and your crops should know about.