FloraMatch App – Now for Android-powered devices
After releasing the FloraMatch™ App for iOS devices, with iPhone and iPad versions, Haifa now releases the App for android-powered devices, which can be downloaded for free from Google Play.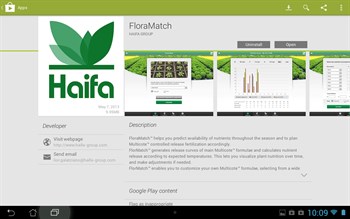 Download the FloraMatch™ App from Google play: https://bit.ly/12Tcms6
Download the App for iPhone and iPad: https://bit.ly/Yt27ZU

FloraMatch™ helps you predict availability of nutrients throughout the season and to plan Multicote™ controlled release fertilization accordingly. It takes into account actual growth condition, and is suitable for ornamental nurseries and agricultural crops.

FlorMatch™ generates release curves of main Multicote™ formulae and calculates nutrient release according to expected temperatures. This lets you visualize plant nutrition over time, and make adjustments if needed.

Haifa's community members can customize their own Multicote™ formulae, selecting from a wide range of raw materials. Thus, you can reach any desired nutritional composition and release profile. Registration to our community can be done here: https://bit.ly/ZMUleU or directly on the App.

The App was developed to work on all Android-powered devices, both smartphones and tablets (Android version 2.2 and up).