Foliar feeding with Haifa Cal Mag increases fruit size and quality in citrus
Foliar fertilization is a common practice in orchards. The benefits of foliar feeding during fruit development are prevention of nutrient deficiencies during a critical period when the fruit is growing, and improvement of fruit quality and size.
Due to abiotic stresses, deficiencies can develop even when soil fertilization is perfect, so foliar fertilization should be included in the overall fertilization program.

During 2022, a trial was conducted in southern China to examine the benefits of Haifa Cal™ Mag fertilizer, compared to the fertilization practice that farmers in this region employ. Haifa Cal Mag is a novel product from Haifa that provides a perfect combination of the essential secondary plant nutrients - magnesium and calcium, along with nitrogen and iron.

The trial results proved that Haifa Cal Mag improves growth and yield:
Compared to Farmer's practice, tree growth with Haifa's treatment was more vigorous, and leaf color was better.

The average fruit diameter obtained with Haifa Mag Cal was larger.

Occurrence of fruit split was decreased dramatically after repeated applications of Haifa Mag Cal.

Haifa Mag Cal application resulted in higher fruit Brix values.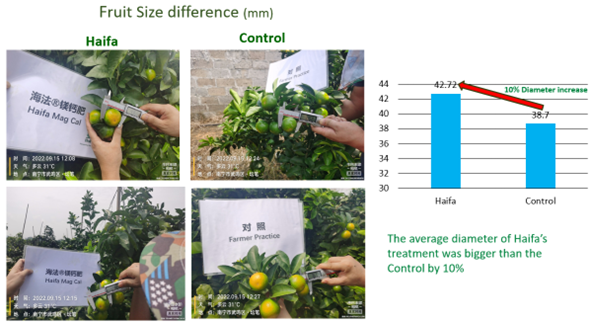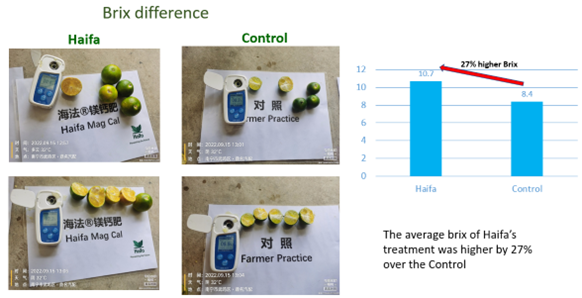 Find more information about citrus fertilization in Haifa's citrus crop guide