Haifa Group CEO visiting Athens, Greece
As soon as flights from Israel to Greece allowed and Covid measures eased in Greece, I decided to visit Greece and complete a visit interrupted one year ago.
First meeting was with Mr. Vasilis Paisios, Owner of MAGMA and an old good friend of Haifa. We had a great dinner discussing about Vasilis visits to Israel 30 years ago. It came to his mind his first trip out of Greece to the city of Beer-Sheva, "the one with a fountain in the middle of its small square, shimmering desert all around, modest houses and Beduin Market". Beer-Sheva is also my home-town, so we've found lots of mutual memories and the discussion revived to Vasilis the sharp spice of the Israelis which he had enjoyed and be-friended long ago, "the kind I was afraid were lost" he mentioned.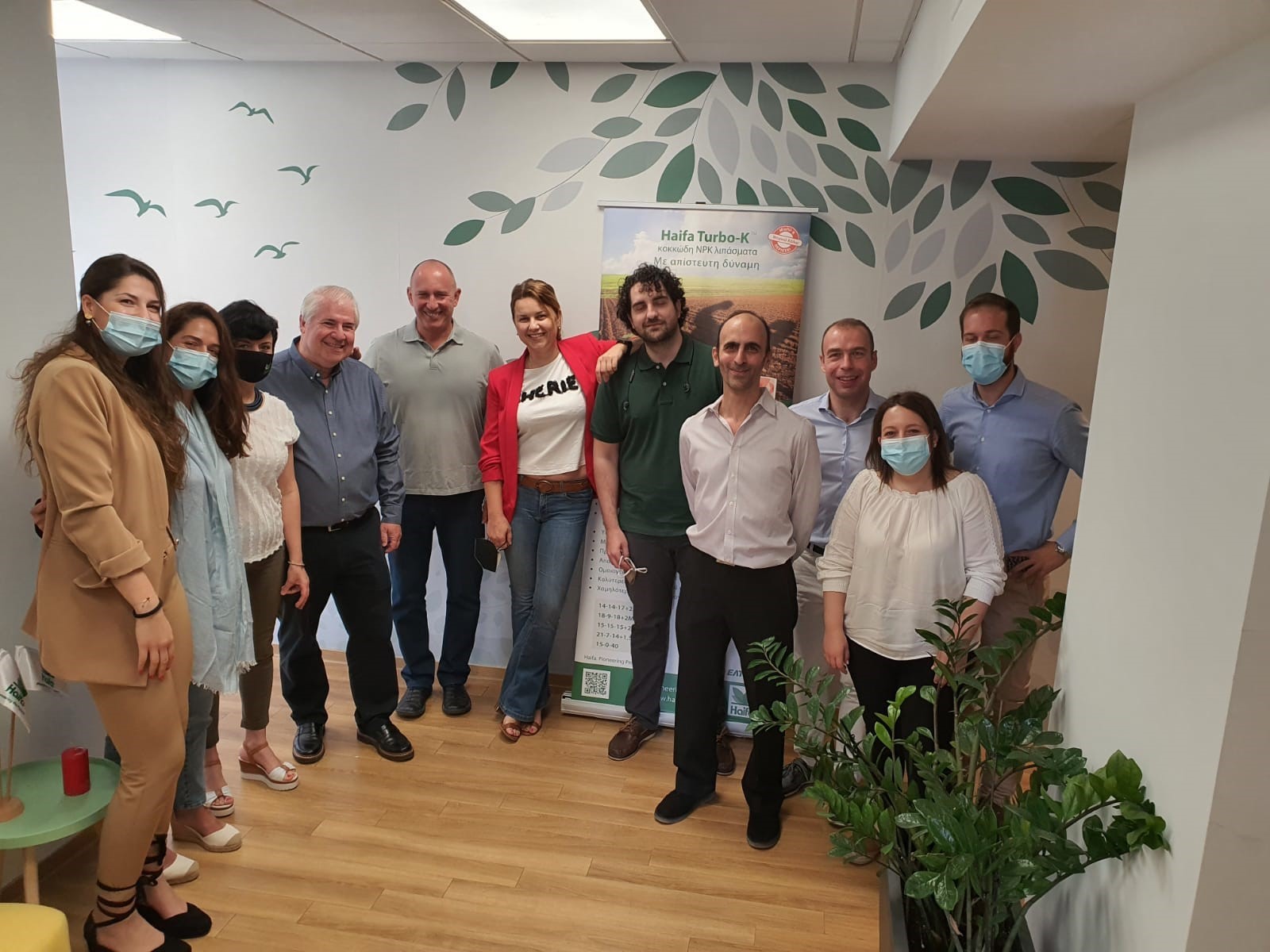 With Haifa SEE team
Coming to business, Vasilis was happy to hear Haifa's plans of development. He expressed his hope, being an old customer of Haifa Group with potential, references and expertise, that we can grow along together, in logistics and jobbing. MAGMA's plants and depots are strategically situated and soon will cover more than 30,000 sq.m. licensed space.
Second day I visited the premises of ELTON, one of the biggest distributors of Haifa Group and for sure the biggest client of Haifa South East Europe. We met the owner Mr. Nestor Papathanasiou, the Commercial manager Mr. Dimitris Giotopoulos and the BU AGRO manager Petros Kritikos. I've described Haifa's strategy and future prospects and a small lecture about our technology innovations like AGRIoT and NUTRINET, since ELTON team is one of the 3 teams testing AGRIoT live in the fields. Mr Giotopoulos presented ELTON structure, agronomical power and spread of subsidiaries in 5 neighboring countries. Elton's clear strategy and management focus on promoting the precision agriculture are excellent basis for both Haifa and Elton to keep growing together.
Third day we visited MAGMA's pesticide formulation and plant-nutrition blending plant and warehouses and had a very interesting discussion with the General Manager of MAGMA Mr. Nikos Kosmidis and fertilizer blender plant manager Mr. Lefteris Zacharis. They were kind to take us for a tour in the plants and enjoy the capabilities and the high safety & security measures and the quality control of the premises.

From left: Lefteris Zacharis (MAGMA), Dimitris Sarris (Haifa), Thanasis Rosoglou (Haifa), Motti Levin (Haifa),
Dimitris Rousseas (ALFA), Dimitris Kantzaras (Haifa)
MAGMA blending plant
MAGMA offices
Same day we met with ALFA fertilizers manager Mr. Dimitris Rousseas. From my side I explained the investment plans of HAIFA GROUP and Mr. Rousseas expressed his great cooperation with HSEE people.
During fourth day I met the owner of our relatively new distributor DECOEXPER, Mr Nikos Pantazakos. I was very impressed to learn of how he developed the timber trading company he hesitated, and diverse it to the agriculture world. I expressed my pleasure for their plans to keep increasing the fertilizer business based mainly on Haifa's partnership.

| | | | |
| --- | --- | --- | --- |
| | | | |
| Nikos Pantazakos, DECOEXPER | Antonis, fish taverna owner | In MAGMA plant for production of BORFEED | Journalists and photographer of YPAITHROS CHORA newspaper |
Later on we had a dinner with the owner of CONTINVEST Mr Tsvetan Tsvetkov, who was so kind to come from Bulgaria and give us a brief description of what they are doing in his country. Moreover he expressed the willingness to grow the business with Haifa Group even more than today's levels.
The most important aspect of my visit was the few hours dedicated to Haifa team. A young enthusiastic team full of energy. Used this frontal opportunity to present Haifa's values, updates and people management. Thanasis Rosoglou, HSEE MD, guided and escorted me throughout my visit with his famous kindness and great Greek typical warm hospitality.
Thank you Thanasis, thank you HSEE team, for your intensive and dedicated work and for all your achievements !