The Haifa's forest concept at the 4th IFA conference on CRF
During the IFA 4th international conference on controlled release and stabilized fertilizers in Beijing, China, we had the chance to give a presentation about Haifa Group's CRF solutions with a special focus on the forestry industry.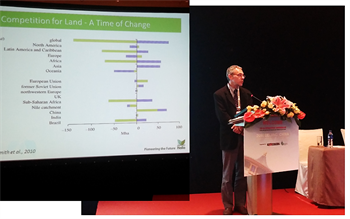 Ron Seligmann; Chief Agronomist & Knowledge Manager
The presentation titled "Alone in the Woods – The Haifa's forest concept to Serve & Protect" and was divided to four main parts:
1. Global Demand
The global demand for wood and various wood products is increasing steadily with the main drivers being the immense increase in world population, the increase in economic growth in developing countries and environmental and energy policies which exclude forests from being harvested from one side while encouraging biomass use on the other. A shift of balance between developed and developing regions is also obvious on both geographic demand for wood as well as on its supply.
2. Climate & Change
As forestry is highly exposed to the weather, climate change is posing a risk which can be turned, if handled correctly, into opportunity. With carbon dioxide increase which can be seen, at least from the plant physiology side a benefit, temperature increase will both impose threat on suitability of growing regions as well as destabilize climate system while disrupting the seasonal trend of growth. With the previous two, comes a change in precipitation patterns which will pose a further risk to the forests as we know them today.
3. We are On the Move
Forest are deemed to shift with some estimates as far as 500 km polar-ward within coming years. While forest have no legs to walk on, it is clear that at the short term lagged migration may lead to massive loss of natural forests. In view of increasing demand, such loss can be amended by human facilitated migration, namely managed plantations.
4. To Serve & Protect
To facilitate both the environmental concerns of forest losses while supporting the industry need for plantation survival, accelerated life cycle and return on investment, it is clear that a matched nutritional supply must be adapted to the plants real nutritional demand on both daily and seasonal growth patterns. Further, both the plant demand and the fertilizer supply must be protected against weather fluctuations to reduce losses and increase use efficiency. Using Haifa's matched nutritional compositions tailor made to the plants demand, the soil and the climate; Haifa offers it's wide range of Multicote™ Agri products and its proven knowledge in the Art of Blending to deliver required nutrients having custom longevities; fit for various environmental limitations and opportunities.
To download the full presentation click here