November 2017 visit to Mexico
In the frame of my visit to Mexico this November, I have attended various activities as Haifa Group Coordinator of Market Development and Agronomy. I have participated in the 22nd national exhibition – Agroalimentaria 2017 in the city Irapuato, Guanajuato state. The Expo Irapuato this year has had a record of 1300 stand, an estimated 120000-150000 visitors + 16 countries booths. This is our 22nd consecutive participation in this huge exhibition where we've presented Haifa Group in 2 stands. During this exhibition we presented Multicote™ , our new Haifa Cal™ Prime line, Polyfeed™ and gave out giveaways to our visitors.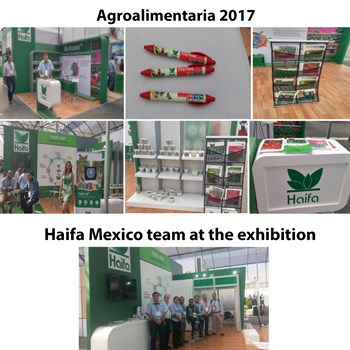 At the second half of my staying I've visited soilless grown vegetables greenhouses as well as Avocado, Maize & Berries fields where I also provided lectures about Haifa-Cal™ Prime grade of calcium nitrate that offers multiple benefits for growers who seek the most precise results in challenging growth conditions.
My lectures were in conjunction of Haifa Mexico central west region agronomist Mateo Martin Nicolas.