Poly-Feed™ Stim helps improving yields of the staple crops that feed millions of people
Haifa has addressed the challenge of food security by developing a special nutritional solution for rice. Based on unique combination of mineral nutrients and biostimulants, Haifa's solution increase yields significantly, which offers an effective and sustainable way for better supply of staple food for large populations.
Rice is the staple food of more than half of the world's population, but farmers fail to fulfill the growing demand for it. Decline in rice production, result of the ongoing war in Ukraine, as well as bad weather in rice-producing economies like China and Pakistan and in major European rice-growing countries, imposes real threat on food security of millions of people.
Committed to support efficient and sustainable agricultural production, Haifa Group strives to introduce innovative practices that will help growers to produce better yields.
A trial is China demonstrated how careful fertilization, enriched with dedicated biostimulants, can increase rice yields significantly. The trial was conducted by Haifa agronomist Red Zhang.
Trial objective: Evaluation the effect of foliar application of Poly-Feed™ Stim Armor on rice yield
Location: Tongjiang Jiamusi, Heilongjiang province, China
Crop: Rice, variety 1624. Transplanted on May 8, harvest on September 8


Treatments:
Treatment
Application timing
Product
Rate
Spray volume
Haifa

Tillering

Poly-Feed Stim Armor
19-19-19+1MgO+ME+0.4Si

2.25 kg/ha

15 l/ha

Panicle initiation – heading

Poly-Feed Stim Armor
15-15-30+ME+0.4Si

3 kg/ha

15 l/ha

One week after flowering

13-5-41+0.2Si

6 kg/ha

375 l/ha

Farmer's practice

Tillering

-

-

Panicle initiation – heading

-

-

One week after flowering

0-52-34

1 kg/ha

15 l/ha
Foliar sprays were applied with drones, according to the common local practice.
Yield results and economic analysis:
| | | | | |
| --- | --- | --- | --- | --- |
| Treatment | Grain yield | Fertilizer cost | Income | Net income |
| Farmer's practice | 9.2 ton/ha | 2,145 RMB/ha | 22,642 RMB/ha | 20,497 RMB/ha |
| Haifa | 10.51 ton/ha (+14.2%) | 2,460 RMB/ha | 25,852 RMB/ha | 23,392 RMB/ha |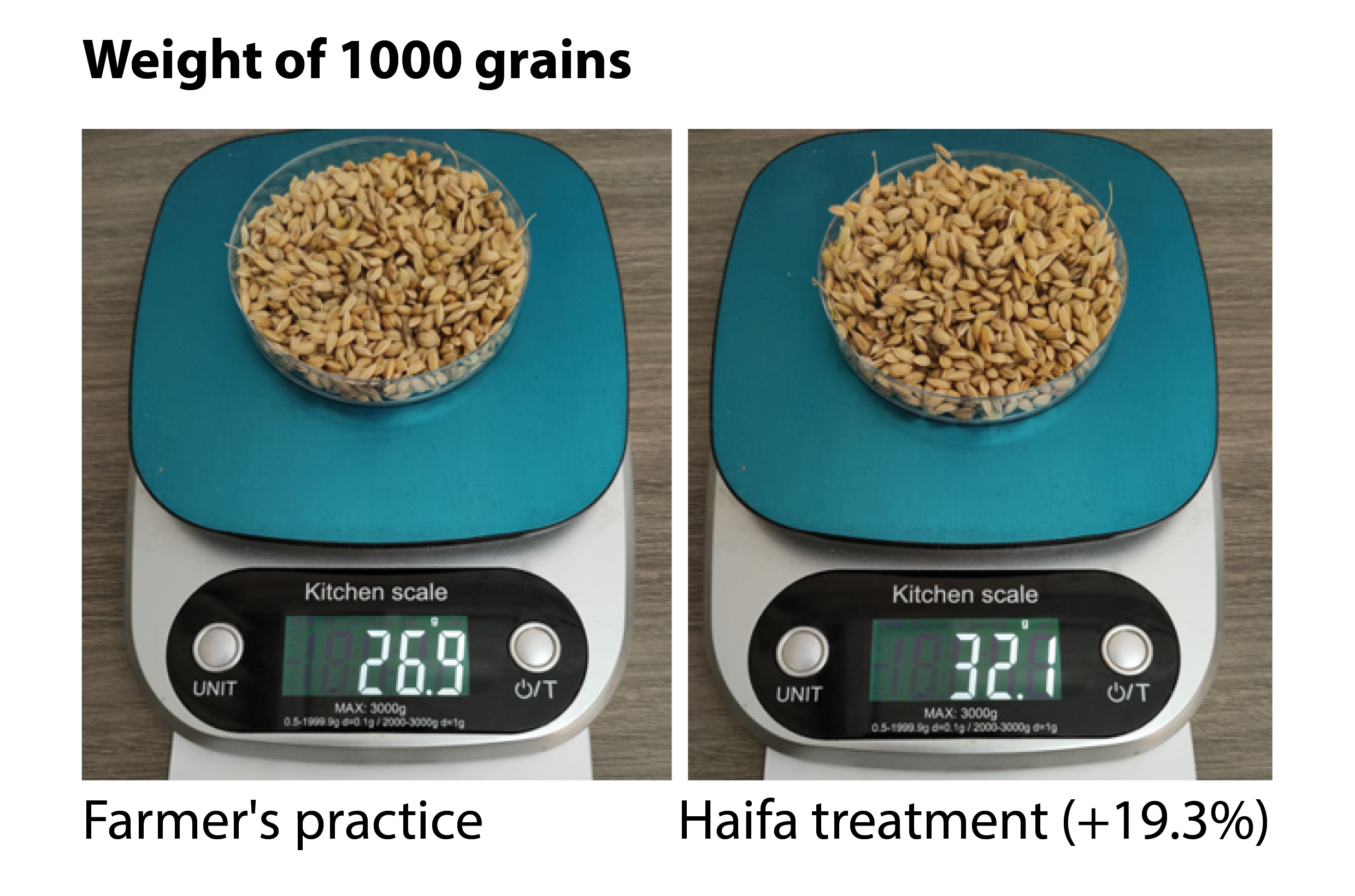 Poly-Feed™ Stim Armor contains silicon, that improves the mechanical strength of the rice plant. Thus< Haifa treatment results in stalk is stronger stalks, more resistance to lodging, compared to the farmer's practice (see picture).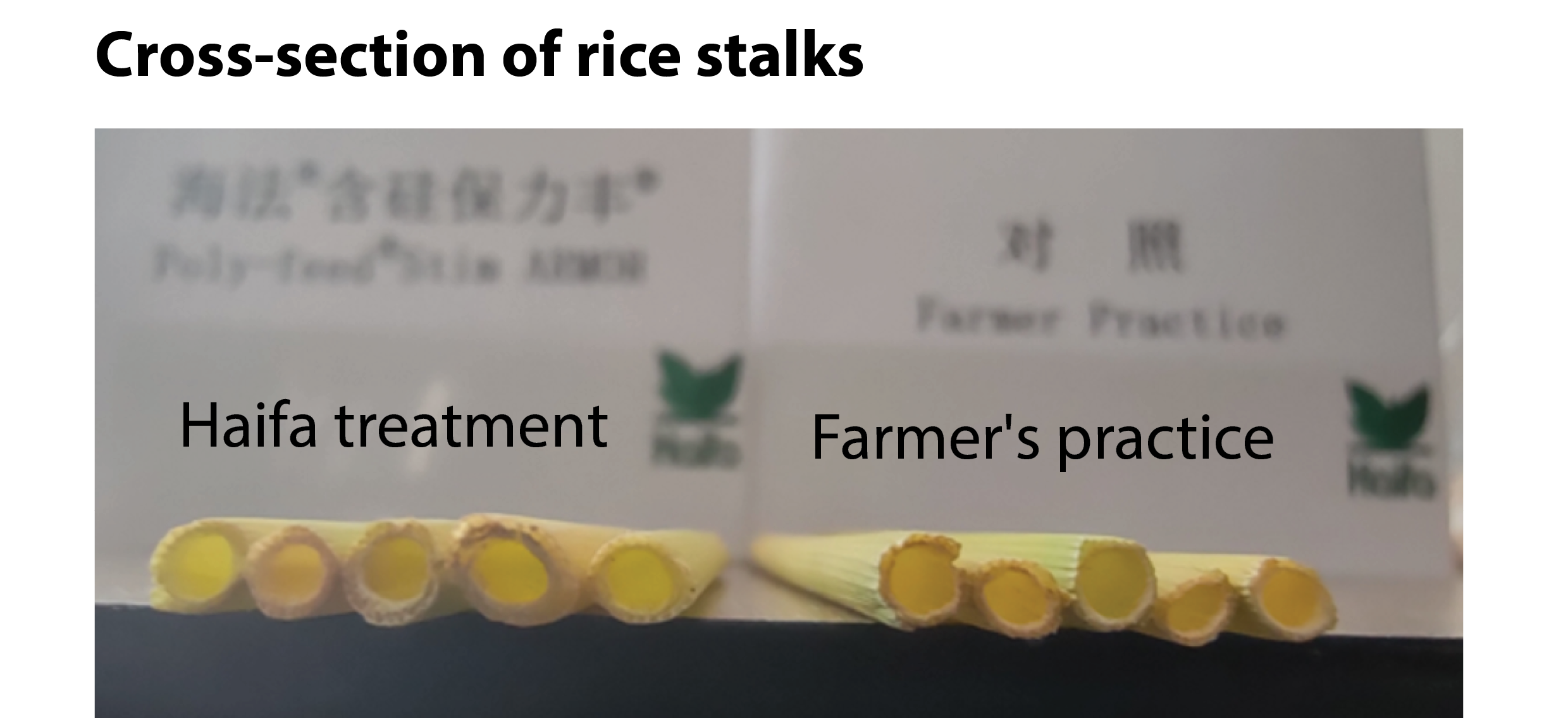 The silicon added to Poly-Feed™ Stim ARMOR formulae is in the form of fully soluble stabilized silicic acide, which ensures avialability for plant uptake and high efficiency. The silicone in Poly-Feed™ Stim ARMOR features neutral pH and it is free of sodium, which makes it superior to other silicon products. Poly-Feed™ Stim ARMOR is so efficient, that it needs only small amount to strenghens the plant and improves its growth.
Learn more about
Poly-Feed™ Stim ARMOR
Poly-Feed™ Stim
products