Precision agriculture: Israeli technology for better nutrition with less resources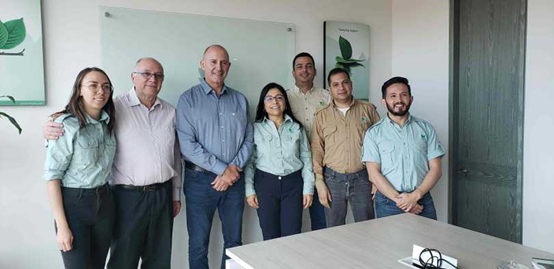 (
Daniela Usaquén, Isi Kela, Motti Levin, Claudia Coronado, Andrés Noreña, William Pachón and César Cala).
At the end of June, the Haifa Group CEO, Motti Levin, was visiting the Hortitec fair in Brazil and several of its teams, distributors and allies in Latin America. We took advantage of this kind Israeli's visit to Colombia to do the interview that the reader will find below. The talk revolved around key issues such as precision agriculture, food safety, efficient resource management and sustainability, issues on which Haifa has significant scientific and technological developments of great use to professionals in agriculture and the community at large.

Metroflor Magazine: Motti, we are honored to receive you in our country. I wish to ask you, is there any special reason for your visit to your team in Colombia?
Motti Levin: I am the CEO of a company that has 17 subsidiaries. Each subsidiary is a regional hub. For me, it is very important to know our people and our business partners. During these days in Colombia I have met some of our distributors in Cundinamarca, Cali and Santa Marta. I also visited Flores Ipanema in the Bogotá Sabana. I was very impressed by the quality of management and the handling of the production of their flowers. Engineer Diego Suárez, who is the person in charge of nutrition in Ipanema, also made a very good impression on me, due to his remarkable expertise.
At Haifa we believe in the Colombian market. This is why we established Haifa – Colombia. We believe the future is bright for plant nutrition, especially precision agriculture and Haifa products.

Metroflor Magazine: I wanted to ask you about this concept. Why is precision important for agriculture and specially for flowers?
Motti Levin: Precision agriculture means that we are taking care of the plant, understanding what it needs exactly. These needs vary depending on what is involved; whether they are flowers, sugar cane, tomatoes, etc. because they are different things and they have particular requirements. It's like raising children: you have to treat them according to their needs. You must understand their language, what they are telling you. This is agronomy.
Haifa has significant experience in agronomy, a know-how that has been gained over decades, since the mid-1960's, when the company was founded in Israel. We have gathered a lot of agronomic knowledge through daily activities with farmers around the world. For example, with Ipanema we agreed to do some tests. We are collaborating with academia all-around the world and using this know-how to understand the needs of plants and growers: this is our methodology.
Precision agriculture has great benefits. One of them is, without a doubt, the significant increase in harvests. But there are other benefits that come from precision. For example, since crops require less water, they are not flooded and therefore soil and groundwater in rivers are not polluted. There are much fewer emissions. So, on the one hand, precision agriculture contributes to productivity, and on the other, it is very sustainable. There are hints that we are doing a very good job, because we see that the market is growing, although I admit that we are still a minority in the global demand for fertilizers.
I mentioned sustainability earlier. We all know that conventional fertilization is a polluting industry and there is an increasing awareness that this pollution needs to be controlled. If we only do generic fertilization, most of the fertilizer will not reach the plant. So, on the one hand, it is a waste of money and, on the other hand, it is pollution that goes into the subsoil, into water sources and into ecosystems. Precision agriculture is the keyword today, and even more so in the future.
Metroflor Magazine: Flower growing in Colombia stands out for the application of knowledge and technology; it is a highly developed industry. Do you think this industry can still be improved in terms of precision?
Motti Levin: Sure, you can always improve. Haifa is constantly investing in expanding its portfolio; we have nutrients, biostimulants, microelements and technology. The idea of yesterday's visit was to do some experiments related to a technology that Haifa recently presented. The name of this application is Croptune. You can find it in Appstore or ask about it in Haifa. This application allows the farmer to take one or two photos of the leaf and identify its level of nitrogen and thus obtain many conclusions about the problems, opportunities and adjustments to be made to the fertilization in order to obtain better harvests and avoid diseases. It is based on very sophisticated optical technology and on recent developments in artificial intelligence. Haifa has obtained a lot of information from the crops and we are using all this knowledge there. At this time we have 20 crops in the system; soon there will be 30, including flowers. This will help the grower to better plan production, quickly identify if there are any problems and improve their performance. But it's not just about the grower. From the data collected, the needs of the region and even the country can be better understood.
We are collaborating with academia all-around the world and using this know-how to understand the needs of plants and growers.

Metroflor Magazine: If the grower has such technology and knowledge at hand, what would be the role of agronomists?
Motti Levin: At the end of the day, the information that makes up artificial intelligence comes from agronomists. It is true that obtaining such a rapid response from the laboratory can put the laboratories that are taking samples at risk. But, in any case, it is a quick view of the situation and we can always discuss it, and contribute ideas.
You asked me before about what can be improved, because flower production in Colombia is very good and Colombian agronomists are excellent professionals. My answer has to do with technology. Flower management is a very important issue in today's world of agriculture. Technology allows for better management regardless of whether it involves many or few hectares of production.

Metroflor Magazine: Since we are talking about technology, What about Haifa growing chickpeas at the International Space Station? Can you comment a bit on this?
Motti Levin: Of course, with pleasure. Thanks for the question.

I'm going to take you a bit back in time so that you understand a bit of the company's DNA. Haifa was founded many years before you were born, in the sixties, in Israel, a very small country that is very dry and whose soil is sandy. It is not a black, heavy soil like the one you have in Colombia. There is not enough water or labor, but there is a rapidly growing population. We needed to find solutions and it is because of this search that Israel is so well known for its innovative agriculture. All of these restrictions prompted people to find innovative ways to obtain food.
Nowadays the issue of food safety has been mentioned a lot because of the coronavirus, because of the war in Europe, because of logistics issues; governments are talking about food security. But Israel has been dealing with these kinds of problems for many years. This is not something new for us; that's why the drip irrigation system started in Israel. Nutrigation, or irrigation with fertilization, started there. This is just the context to explain you what Haifa is, the way we are used to creative thinking. We think about the needs of tomorrow; we always think beyond the current situation.
When we approved the first trials for commercial spaceflight, what we tested in practice is how products perform in different scenarios, such as when there is no gravity. Many relevant conclusions can be drawn from this question. When we started space trials we created miniature greenhouses and identified all the nutritional needs within them. We did it on chickpeas because chickpea is a superfood and it might be the case that, in the future, people need to grow food off-planet. This is not merely theoretical; our researchers and scientists are saying that there are many conclusions relevant to the new Haifa products and in the future we will be able to have them.
…on the one hand, precision agriculture contributes to productivity and, on the other, it is very sustainable.

Metroflor Magazine: This is wonderful. How close we are to witness the results of this project?
Motti Levin: We already have some results that are impressive. Now we are learning how different things behave under certain conditions. We have some internal conclusions, we are going to use them in our future product portfolio and it will be a very good lesson for everyone.
If farmers use nutrition in a very precise and adequate manner in their crops, they will see less nutritional demand and also less pollution.

Metroflor Magazine: I hope you can share some of this information with our magazine in the future.
Motti Levin: Of course. By the way, I want to tell you something. You said "share". One of Haifa's most important values is sharing knowledge. Haifa is a treasure of agronomic knowledge of different crops and territories around the world, since we have a presence in more than 100 countries. Our value of sharing knowledge is not just a statement. On our website there is a huge amount of agronomic knowledge that Haifa has gathered in different trials and places in collaboration with academia. All this information is free for the public to access, for the growers and even for our competition. We believe that knowledge must be shared and that there will be a growing awareness of the need for precision agriculture, which will be for the benefit of humanity and Haifa, as a leading company in this field.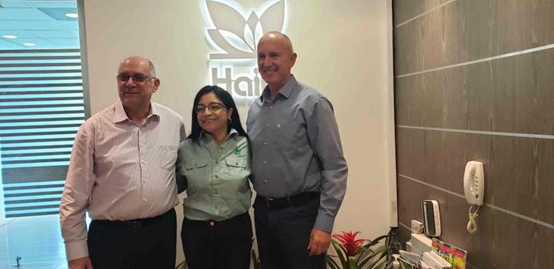 (
Isi Kela, Claudia Coronado and Motti Levin.).
Metroflor Magazine: About this, we have things in common, since Metroflor's mission is also to disseminate technical knowledge for the benefit of flower growers and farmers in general. Motti, to finish, could you talk a bit about the importance of precision agriculture in relation to the fertilizer crisis caused by the war in Ukraine?
Motti Levin: The first thing I have to say is that we are in the middle of the crisis and no one can predict when it will end. It's not just about prices and inflation (which is a very serious thing in many countries, including Israel). What worries me the most is the issue of logistics, and I'm not just talking about final products like wheat -countries like Egypt are suffering from this shortage-, I'm talking about the availability of supplies: the logistics crisis has created major problems in the availability of various products. Price and inflation problems can be solved, but if you don't have the supplies to keep producing, it's much worse. Precision agriculture is very relevant in this regard, because in the end what it implies is that we need less nutrition to apply to the field. If we're direct enough about nutrition, we don't need to flood the soil with urea and all these things that have environmental disadvantages. If farmers use nutrition in a very precise and adequate way in their crops, there will be less nutritional demand and also less pollution. This is the importance of new technology in these times, even in the current war situation.
Who knows what other crisis will come in the future. It is very important that governments understand that they must ensure food for the population. We have to calculate much better the way in which we are using inputs; embracing new technology and adapting new methods is going to be to everyone's benefit.

Metroflor Magazine: Thank you very much for this interview, Motti. Would you like to add something else?
Motti Levin: First of all, I am very happy with my first visit to Colombia; I am in awe of the country. I have visited several cities and people is very friendly. We had promised a long time ago to be here and develop several activities with local growers and distributors. Everyone was very interested in our activities and our portfolio and mainly in our technology. Thanks also to Metroflor for this opportunity, I hope to see you again very soon.