You are here
Haifa's agriculture apps for precise plant nutrition
Haifa's mobile applications help growers to improve plant nutrition while on the go. They bring Haifa's professional advice to the field, the greenhouse or anyplace you may need it. Practical and easy to operate, these apps are suitable for all common mobile devices.
FoliMatch™: foliar feeding advisor
FoliMatch™ is designed to provide worldwide growers a handy tool to optimize
foliar nutrition
. Based on methodological data at the user's location, together with on-location parameters, growers are able to have an accurate recommendation and precise calculations needed for properly applying foliar fertilizers.
Haifa's FoliMatch™ database includes the most relevant crops for foliar feeding application, with a special attention to specific phenology stages for each crop.
Benefits:
Gives the grower an accurate recommendation based on on-location parameters
Includes data for 10 major crops
Pays special attention to specific phenology stages for each crop
Interface in 11 languages
Allows you to send the calculation's result via email
Foliar nutrition - how does it work? watch the video:
Screenshots:
FertiMatch™: Your assistant in fertigation calculations
The FertiMatch™ app helps the grower carry out
Nutrigation™ (fertigation)
calculations by determining the right amount of fertilizers needed for a desired composition. With input that includes data about the fertigation control head, choice of reference element and fertilizers in use, FertiMatch™ is a fertilizer calculator that will tell you how much of each fertilizer you have to add to the tank to get exactly what your crop needs.
Benefits:
No more hassle in fertigation calcultions.
Get the required figure in 3 easy steps.
Dynamic settings: Metric / US / Imperial; Oxide / Elemental; ppm / mmol and more.
Interface in 10 languages (Android and iOS, soon to be availabe for Windows phone)
No internet access is required.
Screenshots: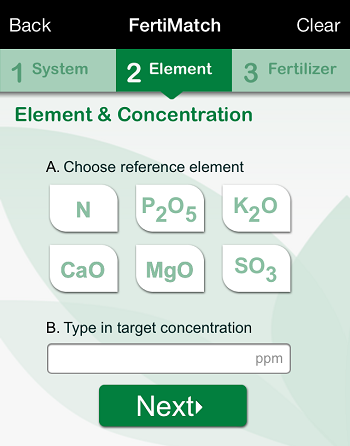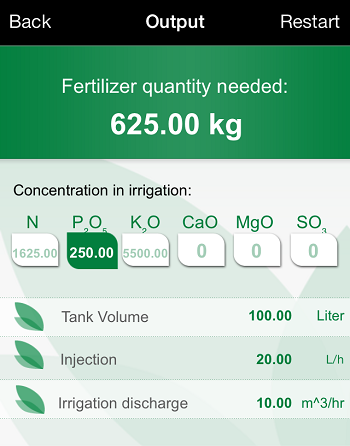 For remarks and ideas for enhancement, feel free to contact us
FloraMatch™: Predict controlled release nutrition
FloraMatch™ helps you to predict availability of nutrients throughout the season and to plan Multicote™
controlled release fertilization
accordingly. The FloraMatch™ app features a very wide choice of formulae, updated databases and a user-friendly interface.
Haifa's registered users can also customize their own Multicote™ formulae. The registration is free of charge, and can be done either through the app itself, or in the
registration page
.
Benefits:
Helps predicting plant nutrition throughout the season
Takes into account actual growth condition
Enables composition of customized Multicote™ formulae
Suitable for ornamental nurseries and for agricultural crops
Screenshots:
For remarks and ideas for enhancement, feel free to contact us
Get the very latest from Haifa
The Haifa newsletter keeps you updated on advanced plant nutrition information,
and provides the latest news & events you and your crops should know about.