You are here
Nomination of VP Safety & Security
I am honored to announce the appointment of Mark Aviv as VP of Safety and Security of the Haifa Group. This appointment is derived from the organizational structure of the Group and its adaptation to the future goals and challenges we are facing - expanding the production capacity of the Company's plants in Israel and abroad, a large backlog of projects planned for the Mishor Rotem plant and activity on a large scale of contracting companies, the dismantling of facilities from the closed northern plant, and more.
As the Group's Safety and Security VP, Mark will play a global role, reporting to me and working concurrently and synchronously with the Group's operations and production array.
Mark is 49 years old, has a BSc in chemistry, is in charge of safety and has a MBA in business administration. He has gained 24 years of professional experience in the chemical industry, out of which 14 years in Haifa Chemicals - facility management of facility P, production management and for 7 years the manager of EHS (Environment, Health & Safety) of Haifa North.
On behalf of all of Haifa Group's employees, I wish Mark success and satisfaction in this new position.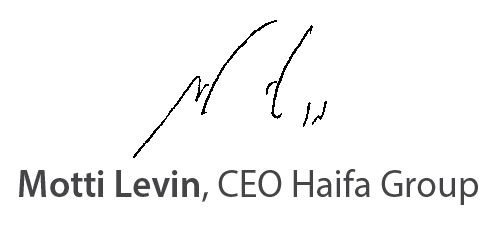 Get the very latest from Haifa
The Haifa newsletter keeps you updated on advanced plant nutrition information,
and provides the latest news & events you and your crops should know about.