You are here
'MyCoteN Mix is voor mij essentieel'
Sneller en 'gejaagd' planten kweken, is aan Ad Vromans (53) uit Biesthoutakker niet besteed. Hij gaat voor sterke planten, zonder ziekten waarbij hij weinig hoeft uit te sorteren. Het op maat gemaakte bemestingsconcept MyCoteN Mix van Haifa is voor hem daarbij essentieel."Hiermee kan ik een samenstelling én werkingsduur kiezen die is afgestemd op mijn teelt en mijn percelen. Het voordeel is dat ik een hoge stikstofefficiëntie combineer met de relatieve lage kostprijs van landbouwmeststoffen." Omdat Vromans minder strooibeurten heeft, bespaart hij ook op arbeid en treedt er minder gewasbeschadiging en structuurbederf op.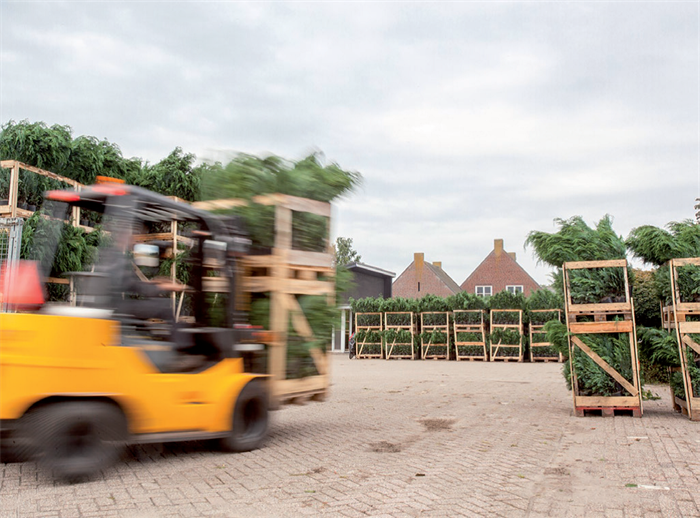 MyCoteN™ Mix: op maat gemaakte blend
MyCoteN™ Mix is een op maat gemaakte blend van CoteN® en ongecoate korrelmeststoffen.
De blend is een samenstelling precies afgestemd op de behoefte van het gewas.
CoteN®, gecoate granulaire ureum voorziet het gewas continu van de nodige stikstof op een gecontroleerde en evenwichtige manier gedurende de gehele teelt. Hier­door wordt uitspoeling en vervluchtiging naar het milieu voorkomen. CoteN® verhoogt de stikstofefficiëntie en vermindert het aantal toe­passingen in de praktijk.
CoteN® aangevuld met korrelmeststoffen - voor de benodigde fosfor, kalium, magnesium en calcium - resulteert in MyCoteN™ Mix.
MyCoteN Mix is hierdoor een uniek concept, specifiek op maat voor uw teelt.
Voordelen MyCoteN™ Mix
Duurzaam: betere stikstofefficiëntie door minder uitspoeling en vervluchtiging
Zekerheid: optimale voeding door continue beschikbaarheid van stikstof
Uniek: blend op maat per kwekerij of perceel
Efficiënt: door gecoate stikstof minder strooibeurten
Kwaliteit: op elkaar afgestemde korrelgrootte voor een optimaal strooibeeld
Economisch: verhoogt de kwaliteit, bespaart arbeidskosten
Gebruiksadvies MyCoteN™ Mix
MyCoteN™ Mix kan zowel voor als na het planten worden toegepast. Dit kan via rijenbemesting, maar ook breedwerpig. Inwerken na toedienen wordt aanbevolen, maar is niet noodzakelijk. Bij toepassing na het planten wordt een proefbemesting aanbevolen. De dosering is afhankelijk van de teelt, overleg dit met uw adviseur.
Werkingsprincipe CoteN®
CoteN® is een volledig gecoate granulaire ureumkorrel. Het gecoate ureum voorziet het gewas van stikstof in de vorm van ureum dat wordt omgezet naar ammonium (NH4) en uiteindelijk naar nitraat (NO3). De werkingsduur en de snelheid van afgifte zijn alleen afhankelijk van de gemiddelde bodemtemperatuur (zie afbeelding). Voor de start is er vocht nodig om de stikstof in de korrel in oplossing te brengen. CoteN® wordt door dit alles specifiek aanbevolen om stikstof op een efficiënte en duurzame manier bij het gewas te brengen.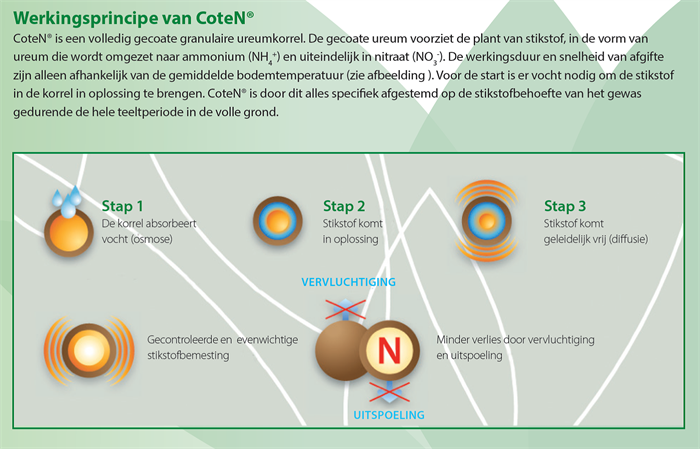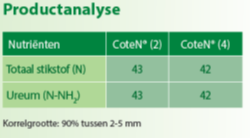 Werkingsduur
CoteN® (2) werkt gedurende twee maanden bij een gemiddelde bodemtemperatuur van 21°C. In de praktijk bij een lagere temperatuur werkt CoteN® (2) langer; drie tot vier maanden. CoteN® (4) heeft in de praktijk een werkingsduur van vijf tot zes maanden.
Get the very latest from Haifa
The Haifa newsletter keeps you updated on advanced plant nutrition information,
and provides the latest news & events you and your crops should know about.