Expo AgroAlimentaria Guanajuato
The Expo AgroAlimentaria Guanajuato is an event developed in Irapuato , Guanajuato since 1996 , considering its agricultural, horticulture and Agro Industrial potential focused to perform business contacts between companies in the agricultural area and visitors of the same industry .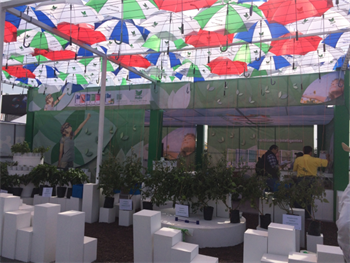 Based on input supply agribusiness and agricultural technology by exhibiting companies and the demand for information para learn the latest in Agricultural Production Systems and Marketing of Agricultural Products that our visitors require. The largest Agricultural Expo in LATAM. Around 30,000 participants daily for 4 days. Indoor section for showrooms and outdoor for machinery, supplies, greenhouses, other sections with demos plots in ten hectares. For the first time Haifa México have 2 stands, our classic stand in the interior and a new one for CRF Haifa products in the exterior.
With 100 mts, this stand was divided, the half was focused for lectures and the other side with agricola, ornamentals and forestry plants with Multicote™.