Haifa Iberia participated in Fruit Attraction 2017
Fruit Attraction was last week the world headquarters of agriculture with more than 1,500 exhibitors from 30 countries and 42,000 square meters of exhibition. Fruit Attraction is the international fair of the fruit and vegetable sector. It has been constituted as a reference appointment in the fruit and vegetable sector, being a meeting point for professionals and the best forum for news and trends for all agents of this market both nationally and internationally. Production is the segment of greatest representation since it means 70% of the exhibitors, which adds the auxiliary industry for agriculture that represented the remaining 30%.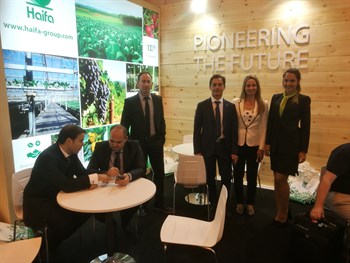 Haifa Iberia went to Fruit Attraction for the sixth time in a row with the same goal as always, which is none other than accompanying fruit and vegetable companies in their quest to improve the quality of their crops and facilitate their commercialization. To assist agricultural professionals in improving the quality of crops, Haifa Iberia presented a new application for the adequate calculation of proportional fertigation under the name of MultifeedTM App. This application helps agricultural professionals to calculate the parameters necessary to introduce them into fertigation equipment and obtain the desired nutritional solution, being another tool
that Haifa Iberia makes available to the whole
world to help farmers to optimize their nutrition of the plants.

Haifa Iberia was at pavilion number 9 where the activity was frantic and all the professionals in the sector approached to visit our booth in order to share with us their experiences and needs in the agricultural production sector.

Our sixth presence at Fruit Attraction, I think it has been very positive and rewarding, providing valuable new contacts from potential customers and giving an image according to the value of our company.