Haifa SEE West Balkans Workshop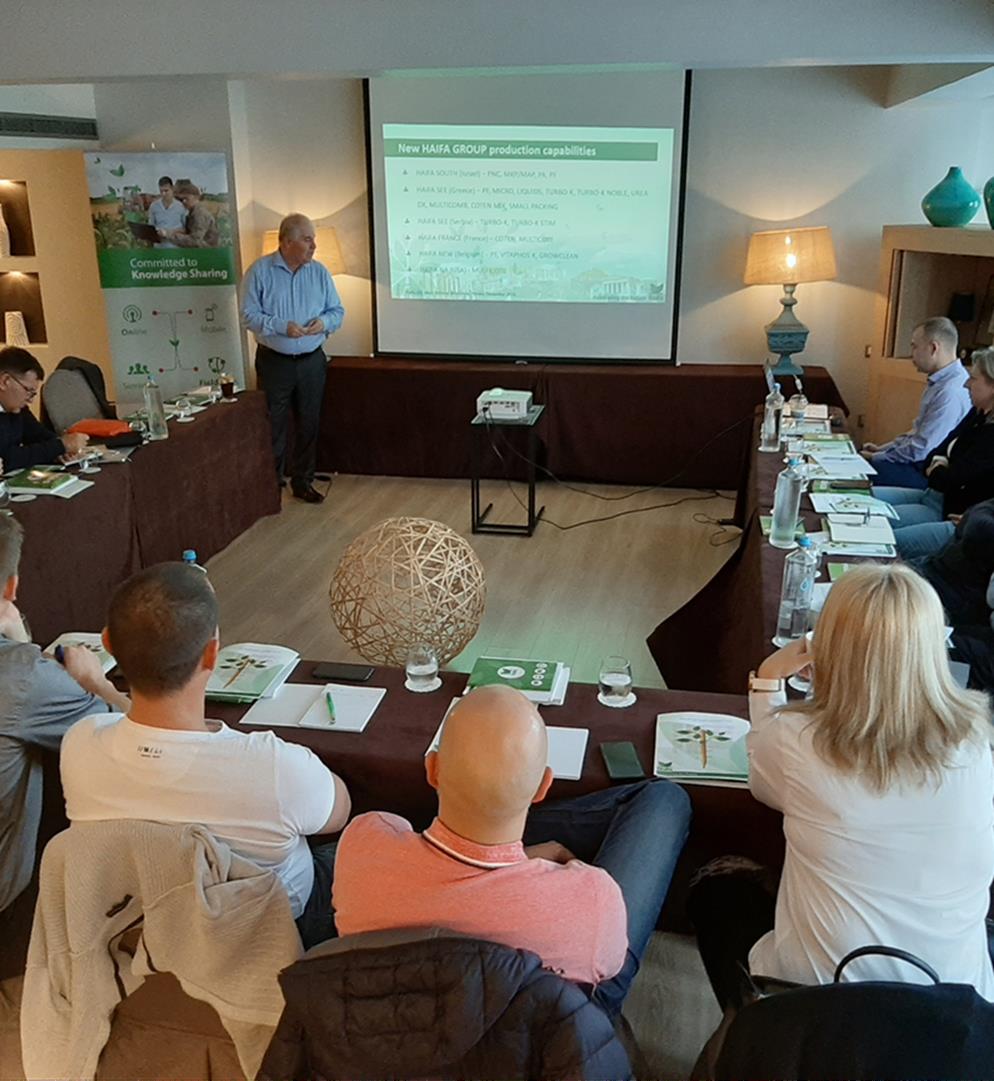 The two-day Haifa's SEE West Balkans Workshop ended with great success
On Monday and οn Tuesday of 25th and 26th of November 2019 was held a two-day meeting between Haifa South East Europe and its partners in the western Balkans. The meeting took place in the southern part of Attica in Glyfada where the company is based.
During these days our partners had the opportunity to be informed about all the new developments of Haifa South East Europe company. Technical presentations were made for the range of products such as CRF, Multicote Agri, Turbo K, Microelements and Haifa Duo, from the General Director of company Mr. Thanasis Rosoglou and the Agronomists Mr. Dimitris Sarris and Katerina Partheniou.
In addition, technical presentations were also made from HSEE team, for the new range of products such as Biostimulants, new products lines of Urea with inhibitors and the new range of Turbo K Noble with inhibitor. Furthermore, our colleges be informed about the whole production process of polyfeed line, which took place in Greece.
Detailed presentation was also made for the Marketing Activities of HSEE, which includes all the actions that we have organized as the creation technical leaflets, the publishing posters and roll ups on Mass Media, the making of technical presentations, field day creations, participations in symposium and exhibitions local and in Balkan. We have also the chance to communicate with our collaborators for the marketing projects such as #We love kiwi, #We love apple, #We love cherry.
Informed also for the Haifa company's social and corporate responsibility actions. Haifa Group has set itself the challenge of being part of the global effort and to act in accordance with the goals of the UN Sustainable Development Program.
Haifa is working to achieve the 17 principles of the Sustainable Development Program, which include, inter alia, human rights and equality between the genders, empowering women and girls, eradicating poverty in all its forms and preserving the environment.
From our site as HSEE, we had the chance to informed about the results of Haifa products experiments that applied in Balkan countries, and the reasons the plants love Haifa (this phrase include in the end of a presentation of our partner)!!! We have the opportunity to listen their needs and improve the scope for cooperation by investing innovative products- solutions and technologies.
Τhe closing of our meeting, was visited by a winery. A guided tour, tasting and lunch was held at a well-known winery in the Area of Markopoulos.