Haifa's mobile website – now in 10 languages
Spanish, Greek, Dutch, Russian, Hebrew, Thai, Portuguese, Chinese and French are now available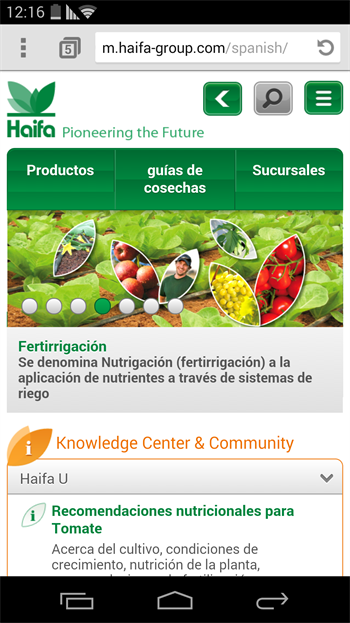 As smartphones and tablets become an integral part of our everyday lives, including professional and work-related aspects, Haifa Group continues to realize the 'Farmer's Mind' value with a mobile website now available in 10 different languages.

With the mobile website, it's easier for growers to utilize the vast agricultural knowledge Haifa Group has to offer, whether they're in the field, greenhouse or any other place.

Alongside the English version of its Knowledge rich website, Haifa Group offers the mobile website in Spanish, Greek, Dutch, Russian, Hebrew, Thai, Portuguese, Chinese and French.

To choose the desired languages, simply browse to Haifa Group's website from any mobile device, scroll down to the language selector and select a language from the list.