Improving your vegetables with Poly-Feed ready NPK formula
The 2 stage Poly-Feed fertilization program for vegetable growers
Haifa Poly-Feed fertilizers are known for having a NPK formulas that matches to crop's needs completely. The advantages of using Poly-Feed ready NPK formula fertilizers are:
♦ Optimal K2O/N formula for each growth stage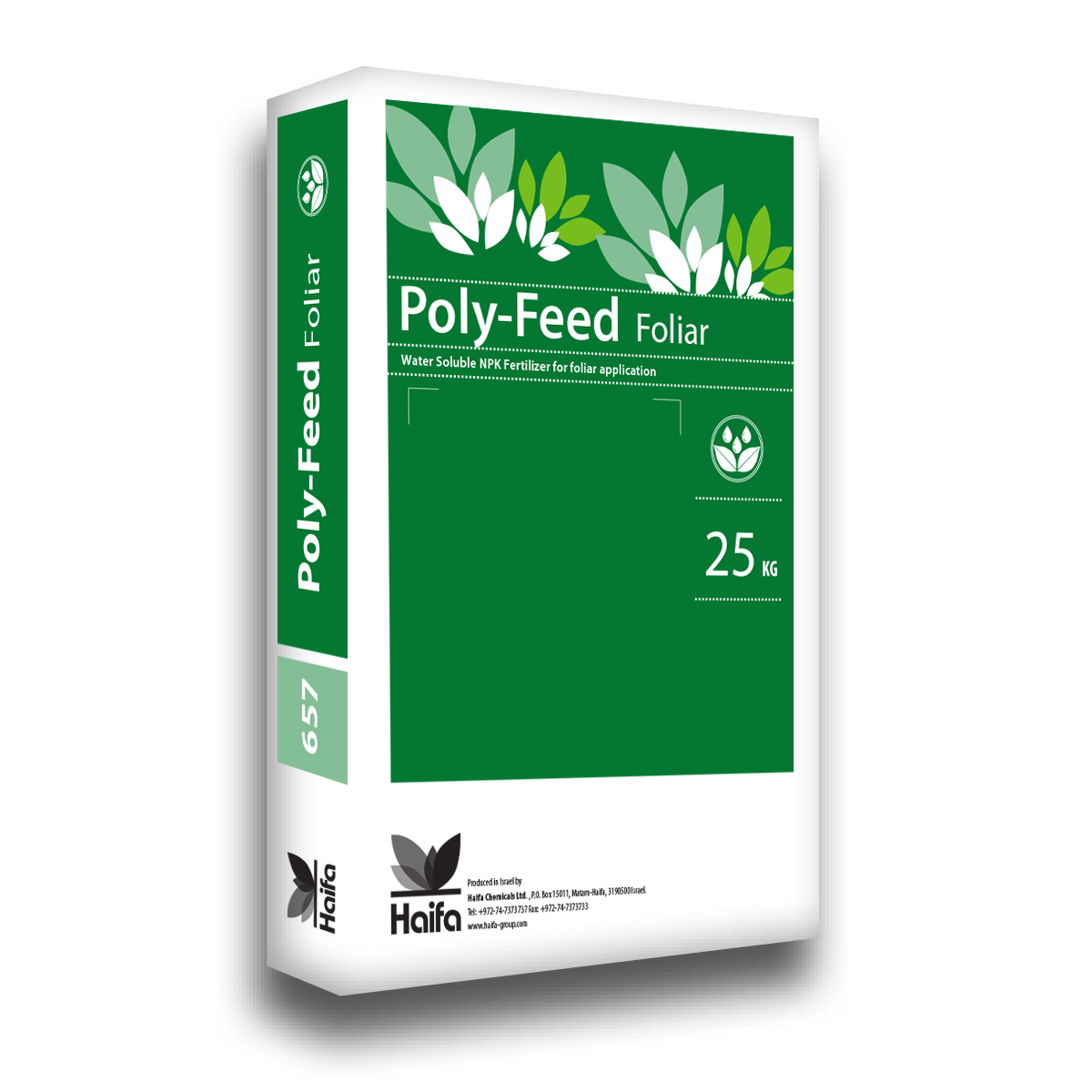 ♦ Optimal nitrate / ammonium ratio
♦ Saving on time and efforts in preparations
♦ Totally soluble and can be applied thru the irrigation water (fertigation)
♦ No need to have a stock of many straight fertilizers, only two formulas
♦ Error safe, accurate composition of the nutrient solution
♦ No wastes and losses of expensive raw materials.

Because Poly-Feed is totally soluble and its application is very simple and accurate, it is preferred both in high-tech fertilization systems and in fields where there is a low infrastructure for fertilization.
In fields with a single-tank fertigation system, the Poly-Feed two-stage fertilization program is very common. In the first stage (from emerging to fruit set, 2-3 first weeks) the crop fertilization is made with a balanced NPK formula (NPK ratio 1:1:1) that includes Mg and Micronutrients. This formula will bring the plant to the productive stage healthier and vigorous.
In the second stage (Productive stage) the fertilizer formula contains a high K2O / N ratio (such as NPK ratio 1.5:1:3) that helps to achieve better quality and bigger fruit. Growers usually split the weekly fertilizer requirement into 2-3 applications. In the days that Poly-feed is not applied, the grower can use the fertigation system to apply other needed fertilizers (like Calcium nitrate or Magnesium nitrate) that cannot be mixed with the poly-feed because of the incompatibility between phosphorus and calcium and magnesium fertilizers.
The fertilizer quantities that are recommended for intensive crops are 2-8.5 kg/ha/day during initial establishment (2-3 weeks) and 10-15 kg/ha/day during the vegetative and the productive stages, depending on crop requirements and soil type.
Typical recommendation application rate for two-stage fertilization program (kg / ha / week)[1]:
Crop

From emerging to fruit set stages

(Poly-Feed 19-19-19+1 MgO + ME)

Productive stage

(Poly-Feed 14-10-34+ME)

Tomato

50-70

80-120

Pepper

35-60

70-100

Cucumber

40-60

80-100

Lettuce

30-50

50-70

[1] These recommendations should be referred as a general guide only. The exact fertilization program should be determined according to the specific crop needs, soil and water conditions. For detailed recommendations, please consult your local Haifa agronomist
[1] The recommendations should be regarded as a general guide only. The exact fertilization
program should be determined according to the specific crop needs, soil and water conditions, cultivar,
and the grower's experience. For detailed recommendations, please consult your local Haifa agronomist