Now available: FloraMatch™ App
The free App helps plan controlled release nutrition for nurseries, with an easy-to-use interface – anywhere, anytime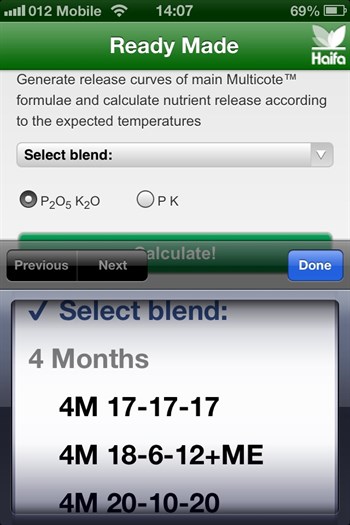 The FloraMatch™ App helps growers match Multicote™ controlled release formulae to their exact crops requirements and growth conditions.

The App is available for free on Apple's App store https://bit.ly/Yt27ZU, and will soon be available on Google Play. After downloading and launching the App, you can select the desired formula from the library of ready-made Multicote™ products, or create customized formulae to further optimize results to their particular requirements (available for Haifa's community members only. You can register here: https://bit.ly/ZMUleU, or via the App).

FloraMatch™ facilitates planning of fertilization programs, with a simple procedure that requires only selection of formula and entering temperature data. The App enables selection of ingredients to meet any desirable ratio of nutritional elements coupled with the required longevity.

The App joins not only the FloraMatch™ desktop version (https://bit.ly/101MA4x) but also our other expert software: Haifa NutriNet™ (https://bit.ly/11iZWe0) and Haifast™ (https://bit.ly/WWv5Gz). Haifa Group website users also get a 20% discount coupon for purchasing the SMART! Fertilizer management software (https://bit.ly/13emUYI).