You are here
Index: Nutrition and Nutrient Uptake | Nutritional Disorders
Nutrition - Nutrient Uptake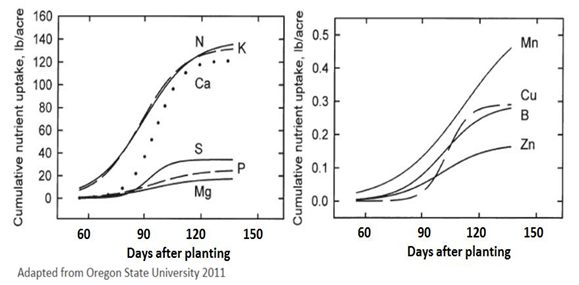 The sparse, shallow root system of the onion calls for careful management of water and nutrients, to ensure adequate availability. P, K and metal micronutrients, which are relatively immobile, are not easily reached by the roots, while mobile nutrients, such as nitrogen, tend to leach below the roots zone.
Various studies show that application near the onion's small root zone improves nutrients use efficiency. Thus, Nutrigation™ (fertigation), that supplies nutrition close to uptake sites, increases yields compared to broadcast application. (Thangasamy, 2016)
The following charts show the overall uptake dynamics throughout the season. The timing of nutrient application should take in consideration the nutrient uptake pattern during crop growth stages. As shown, most intensive uptake takes place from the start of the bulb initiation stage and during the bulb development.
Improved nutrient management, by means of fertigation or controlled release fertilizers, will not only improve the onion yield, but also will enhance nutrient use efficiency that will give the grower a better return while minimizing environmental risks.
Nitrogen (N)

Dry bulb production, from transplanting, requires 140-170 kilograms of nitrogen per hectare. Nitrogen application rates depend on soil type, rainfall, irrigation, plant population, and method and timing of application. Usually, it is advisable to incorporate 25-30% of the recommended nitrogen rate prior to planting.
Lack of available nitrogen will severely suppress growth. On the other hand, excessive nitrogen is believed to produce succulent plants that are more susceptible to frost injuries and disease, and tend to produce flower stalks. Heavy nitrogen fertilization also worsens storage properties of the bulbs. Finally, excess nitrogen late in the growing season is believed to delay maturity and cause double centers. It is recommended to cease N application at least 4 weeks before harvest.
Phosphorus (P)
Phosphorus is essential for root development and therefore is required at the establishment stage. Phosphorus uptake rate is more or less constant throughout the growth cycle. Since phosphorus is immobile in the soil and can be translocated from the old leaves to the bulb during the bulb development and maturing stages, it is possible to apply most of the phosphorus before planting and up to the bulb development stage, to simplify the fertilization program.
Onions are highly dependent on arbuscular mycorrhizal fungi for uptake of phosphorus from soils with low to medium soil test P concentrations. Mycorrhizal fungi also improve the uptake of zinc and other micronutrients in some high-pH calcareous soils. Mycorrhizal fungi are usually abundant in agricultural soils, except when non-host crops (e.g. sugarbeet, canola) are grown, soil is fumigated, or high P is present.
Potassium (K)
Potassium is an important factor in plant water relations, cell-wall formation, and energy reactions in the plant. It is recommended to split K applications by incorporating 30-50 percent of the recommended K before planting and to split the remainder during the bulb development stage. Appling potassium during the bulb development stage increases the bulb size and quality. Low K level makes plants more susceptible to cold injury.
Magnesium (Mg) levels in the soil must be adequate for good onion growth. If Mg level is low, apply 30 kilograms per hectare of Mg in the preplant fertilizer.
Sulfur (S) Early application of sulfur is advisable in direct seeded and transplanted onions. Do not completely eliminate S from the fertility program. Apply elemental S half incorporated at transplanting or seeding and half before the bulb development stage. Application rates should not exceed 45 - 70 kg S /ha.
Boron (B) is required by direct-seeded or transplanted onions in the field. If the soil test detects a low B level, apply 1.0 kg B /ha and incorporate prior to transplanting or seeding. Do not exceed the recommended amount since boron can be toxic to onions.
Zinc (Zn) levels determined to be low by soil testing can be corrected by applying 6 kg/ha of Zn. Excessive amounts of Zn can be toxic, so apply only if needed. Zinc is usually added in base fertilization.
Nutritional disorders
Nitrogen: Deficiencies result in stunted plants with pale green to yellow leaves that dieback from the tips. Also, the foliage tends to be erect and the bulbs are smaller than normal and mature earlier. Excess nitrogen causes rapid plant growth and delays maturity. The bulbs tend to be softer and more susceptible to storage rots.
Phosphorus: Deficiencies result in slow growth, delayed maturity and a high percentage of thick necked bulbs at harvest. Leaves become a dull green color and dieback from the tips without the yellowing associated with nitrogen and potassium deficiencies.
P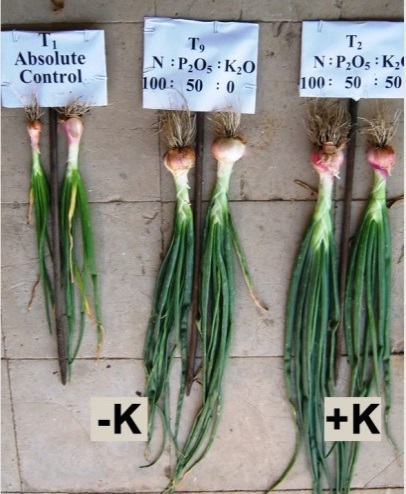 otassium: Deficiencies result in the foliage initially becoming darker green and the tips of the older leaves begin to wilt, especially on the upper surface. Eventually the leaves droop and take on a satiny progressing to paper-like appearance and develop chlorosis similar to that caused by nitrogen deficiencies.
Magnesium: Deficiencies result in slow plant growth with the older leaves becoming uniformly yellow along their entire length.
​Zinc: Deficiencies result in stunted plant growth with noticeable twisting and faint interveinal chlorosis of the leaves. Onions are very sensitive to zinc deficiencies.
Molybdenum: Deficiencies result in poor emergence and seedling death. As the plant grows, leaves will dieback from the tip with a noticeable soft transition zone between the healthy and necrotic tissue. Onions are very sensitive to molybdenum deficiencies​
​Manganese: Deficiencies result in slow growth, delayed maturity and a high percentage of thick necked bulbs at harvest. The older leaves develop interveinal chlorosis, which progresses to a tip-burn, and they may curl and eventually become necrotic. Onions are very sensitive to manganese deficiencies.
​Boron: Deficiencies result in distorted and stunted plant growth. Leaves become brittle and may turn a gray-green to a blue-green color. Young foliage may be a mottled yellow green while older leaves become chlorotic with tip dieback and sunken areas. Transverse yellow lines that develop into cracking can occur near the base of the leaves.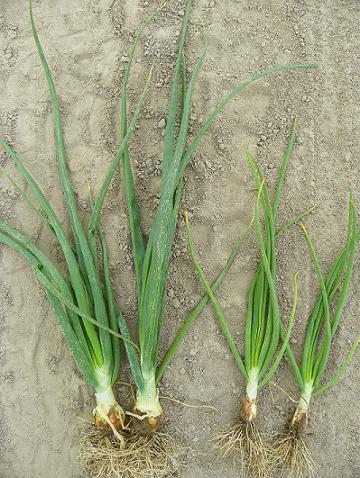 Tissue analysis guide for diagnosing crop nutrient status
Plant part to sample is the tallest leaf blade
Sampling time and nutrient

Nutrient level

Deficient

Intermediate

Sufficient

Early season (pre-bulbing)

Total N, %

<3

3-4

>4

PO4-P, ppm

<1000

1000-2000

>2000

Soluble K, %

<3

3-4

>4

Mid-season (bulbing)

Total N, %

<2.5

2.5-3

>3

PO4-P, ppm

<1000

1000-2000

>2000

Soluble K, %

<2.5

2.5-4

>4

Late seaon (post bulbing)

Total N, %

<2

2-2.5

>2.5

PO4-P, ppm

<1000

1000-2000

>2000

Soluble K, %

<2

2-3

>3
(UC Davis, 2016)
Related Articles:
NPK Fertilizers - Water Soluble Fertilizers
Plant Fertilizer & Plant Nutrition
Foliar Feeding & Foliar Fertilizer
Get the very latest from Haifa
The Haifa newsletter keeps you updated on advanced plant nutrition information,
and provides the latest news & events you and your crops should know about.