You are here
FoliMatch™ - your personal assistant for foliar fertilization
In 3 simple steps, the FoliMatch™ app generates accurate fertilization recommendations
based on location parameters and considering specific phenology stages of the crop.

The FoliMatch™ app
· Addresses a wide variety of crops
· Features a user-friendly interface, with a choice of 11 languages
· Provides finely tuned recommendations, customized to suit user's location
· Includes a built-in option to share foliar nutrition programs
· Helps you to find near-by fertilizer shops
· NEW: recommendations for foliar application of Poly-Feed™ Stim products, that combine plant nutrients and biostimulants


The update version of FoliMatch™ is now available for Desktop version & Mobile via App stores.


1. Are weather conditions suitable for spraying?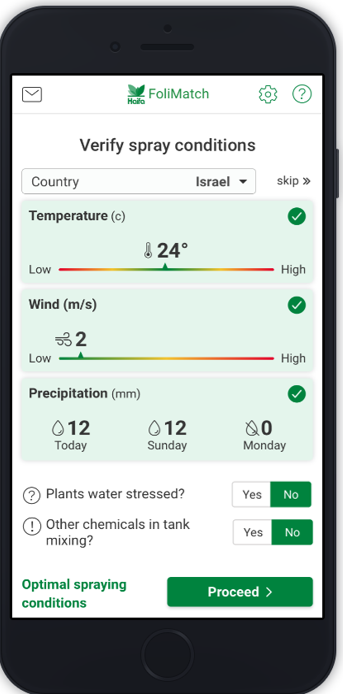 2. What are you going to spray?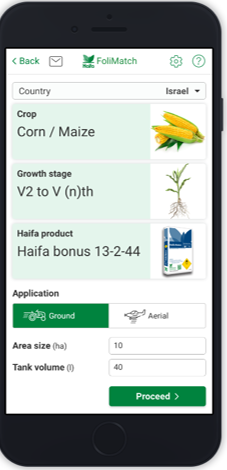 3. Get a program!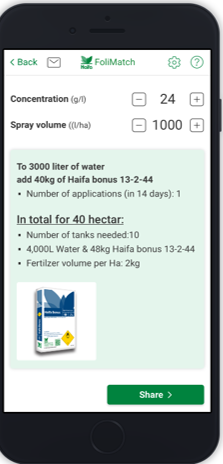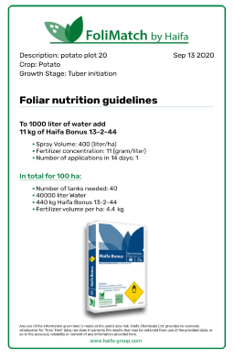 And you can also share it!
Download now from your app store:
Get the very latest from Haifa
The Haifa newsletter keeps you updated on advanced plant nutrition information,
and provides the latest news & events you and your crops should know about.