Haifa Turbo-K™ Plus - Innovation in plant nutrition
Haifa Turbo-K™ Plus is the innovation in plant nutrition that will change the way we feed the world and protect the environment.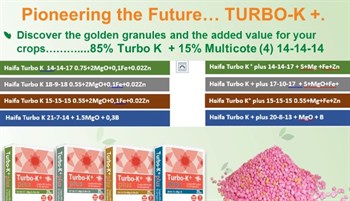 Part of the nutrients are fast acting to feed plants immediately.
Part of the nutrients are CONTROL RELEASED to feed the plants for longer time (from 2 to 12 months).
The environment is protected since Nitrogen is not leached to underground waters. Also, no volatility losses to the air.

HAIFA TURBO-K PLUS is the complementary line of granular fertilizers, which together with HAIFA TURBO-K and COTEN MIX are the most innovative specialty fertilizers produced by the industry.

HAIFA WILL RE-WRITE THE FERTILIZATION RECOMENDATIONS IN THE NEAR FUTURE.

I am happy we are part of it.....
Related articles:
Nutrient deficiency | NPK | Plant Nutrition & Plant Fertilizer | Foliar Spray | Calcium Nitrate Fertilizer | Foliar Fertilizer | NPK Fertilizers | Map Fertilizer