Haifa Turbo-K™ workshop in Greece
More than 70 growers participated in the workshop and showed great interest in Haifa's granular NPK fertilizer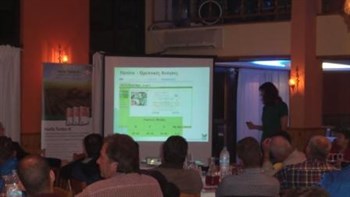 Haifa South East Europe (SEE) organized a workshop in collaboration with Elton S.A., a Haifa distributor.

The seminar took place in Varda Ileias, a town located in Southern Greece, and focused on the advantages of the Haifa Turbo-K™ granular NPK fertilizer. The audience was comprised from over 70 growers of potatoes, strawberries, olives, melons and watermelons.

The main speaker during the workshop was Mrs. Katerina Partheniou, sales agronomist and Haifa Turbo-K™ product manager for Haifa SEE. She presented the successful results achieved with the Haifa Turbo-K™. The participants, who were already familiar with the high-quality water soluble fertilizers range from Haifa, showed great interest in the granular Haifa Turbo-K™ series, thus making all of us more than satisfied.