How did Balkan wild wheat growers overcome heavy rains?
The Balkan area in Southeast Europe not only offers a breathtaking view, it also has a long history of agriculture. Dated far as 5,000 BC, Bulgaria had a sophisticated civilization that enjoyed the advantages of the rich soil and natural resources for agriculture.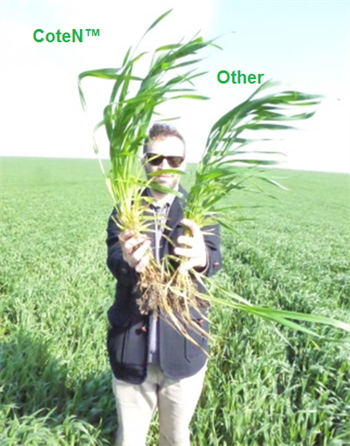 Many things have changes since those days – technologies have been developed and science discoveries have been made. But, local farmers still face similar climate challenges their ancestors had to deal with.
The Bulgarian climate is characteristic for Central Europe, long cold winters and hot summers. Growers may experience as much as 600 ml. of rain over only a few days, washing away Nutrients from the soil, leaving a muddy field that can only be re-fertilized from the air. A logistical and financial challenge that is far from ideal at this critical point for plant nutrition.
As an Agronomist and Area Manager I was called to help find a solution for the Nitrogen leaching issue of the Bulgarian wild wheat growers. My recommendation was to use CoteN™, Haifa's polymer coated urea and part of the Multicote™ range of Controlled Release Fertilizer (CRF), developed by Haifa Group.
As you can see in the movie here, taken after a few days of heavy rain, not only there is a significant difference between the part that was fertilized by CoteN™, the granules are still on the ground applying accurate N release following plant's nutrient uptake demand saving labor and time with a single application and no need to fertilize again during the season.